Security forces seized on Tuesday 3.5 million packs of bootlegged cigarettes worth about TL 22 million ($7.89 million) in northern Turkey in what has been dubbed by media outlets as the largest amount of bootlegged cigarettes captured in a single operation.
The operation was launched by police acting on intelligence concerning a cigarette smuggling ring operating out of the Sarp border crossing with Georgia.
After three months of conducting surveillance on the ring, security forces stopped five trucks late Tuesday after they left the customs area and were traveling near Hopa, a town in the northeastern province of Artvin.
Officials said it was the highest haul of bootlegged cigarettes confiscated in the history of the Republic of Turkey. A total of 15 people, including five customs officials accused of turning a blind eye to the trucks, were detained in the operation.
Smuggled cigarettes are among the common items street vendors hawk all across Turkey despite continuous operations by law enforcement to crack down on the illegal trade. Those cigarettes, described as "cheap white" in law enforcement jargon, are sold for an average price of TL 3, a lower price than the cheapest legal cigarettes.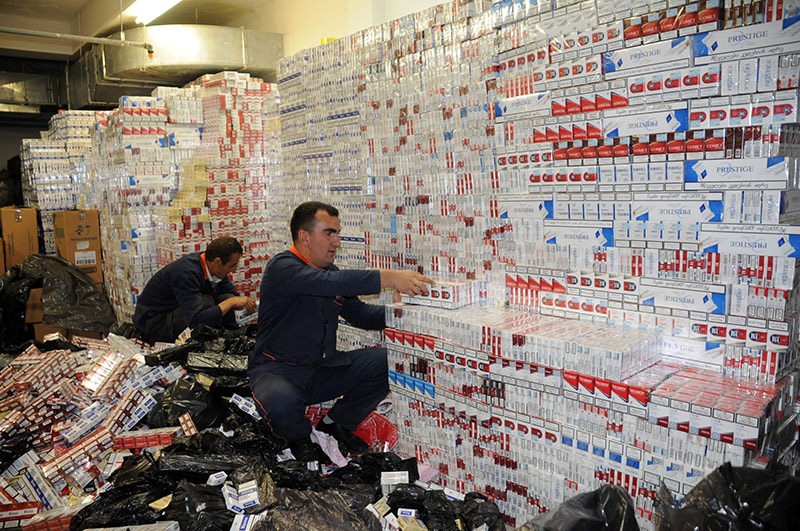 Cigarettes made in Bulgaria are the most commonly smuggled cigarettes into Turkey. Bootlegged cigarettes from China and the United Arab Emirates are also among the most trafficked cigarettes.
According to police reports, cigarettes from Bulgaria and other Eastern European countries are smuggled into Turkey via Iraq, Syria and other countries in the Middle East and sometimes through the eastern ports of the Mediterranean Sea. Turkey coordinates efforts with neighboring countries against international smuggling.
Eastern and southeastern provinces bordering Middle Eastern and Asian countries lead in the figures regarding the confiscated bootlegged cigarettes.
The rise in smuggled cigarette rates is attributed to the low tax for tobacco products in countries in the region, increased import taxes for cigarettes in Turkey and lower sentences for cigarette smugglers compared to smugglers of other commodities. The increase in taxes imposed on tobacco products is part of the government's struggle to decrease the country's smoking habit, coupled with a ban on smoking in public places such as the indoor areas of cafes and restaurants.