A riot control vehicle in front of Justice and Development Party (AK Party) Diyarbakır branch was attacked late Friday by PKK members. According to the local sources, the terrorists attacked the vehicle with improvised explosive devices.
The police officer within the vehicle was injured. After the attack, the officer was immediately taken to the hospital.
The riot control vehicle burst into flames because of the explosion. The fire that left the vehicle severely damaged was extinguished in a short time.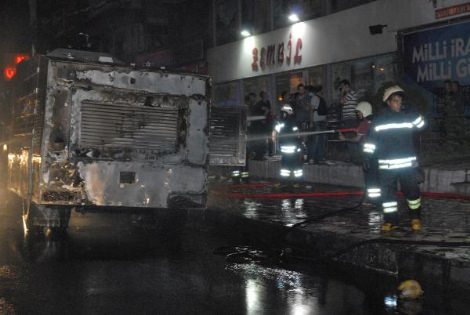 Security officials have launched a wide-scale operation in the pro-Kurdish Peoples' Democratic Party (HDP) stronghold.
The PKK, listed as a terrorist organization by the European Union and the United States, has been involved in a bloody campaign under the pretext of Kurdish self-rule in southeastern Turkey since 1980s, which saw tens of thousands of civilians, Turkish soldiers and policemen killed in the conflict. The group largely ceased its activities after the government launched the reconciliation process to end the PKK's campaign of terror two years ago.
On July 11, the terrorist group declared that it ended the ceasefire. Since then, the PKK has killed over 55 people including civilians, soldiers and policemen.