The PKK terrorist group, responsible for killing over tens of thousands of civilians in Turkey, has reportedly kidnapped 316 children in the past two years.
According to security reports, families of children under the age of 18 have filed complaints claiming that their children were kidnapped by the PKK. 88 of these children were reportedly girls, and 228 consisted of boys, while in 2014 a total of 205 children were kidnapped by PKK terrorists.
In the past 20 months, over 1070 adults were kidnapped by the terrorist organization. These individuals are on a 'wanted' list by the police for being "persons lost based on terrorism related activities."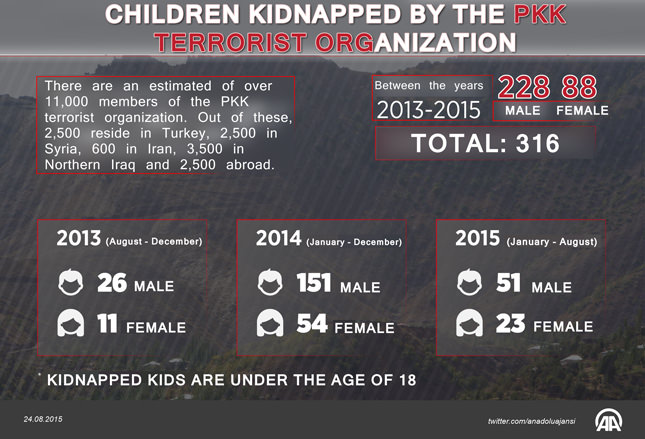 In Turkey alone, there are over 2,500 PKK terrorists, while this figure surpasses 9,000 abroad, 2,500 of which are located in Syria, 600 in Iran and 3500 in Northern Iraq, while the remaining 2,500 are in other countries including the EU.
Turkey's Ministry of Foreign Affairs has stated on August 1 that the terrorist organization PKK uses civilians as human shields in its camps.
Security officials have said that the outlawed DHKP-C has about 5,000 followers in Turkey, and 500 of these openly pledge their support for the PKK in terrorist attacks throughout different Turkish cities.
The families of children and teenagers recruited by the terrorist organization PKK had previously staged demonstrations and called on to the group to let their children return.
Last year, a group of Kurdish families staged a months-long sit-in in Diyarbakır, a southeastern province with a large Kurdish population, and a brief hunger strike to protest the recruitment of their children as young as 15 by the terrorist organization. Turkey was long plagued by the PKK's bloody campaign of terror for Kurdish self-rule in the southeast, which killed tens of thousands over three decades.
The PKK, listed as a terrorist organization by the European Union and the United States, has been involved in a bloody campaign under the pretext of Kurdish self-rule in southeastern Turkey since the 1980s, which saw tens of thousands of civilians, Turkish soldiers and policemen killed in the conflict. The group largely ceased its activities after the government launched a reconciliation process to end the PKK's campaign of terror two years ago.
The Turkish Air Force has been carrying airstrikes against the PKK in northern Iraq and the ISIS militants in northern Syria.
Meanwhile, the Turkish Armed Forces have neutralized over 800 terrorists since the military operations which started on July 22 after reconciliation efforts came to a halt with fresh terrorist attacks.