A total of 14 police officers were killed Tuesday in Turkey's eastern Iğdır and Tunceli provinces in two separate PKK attacks.
Iğdır Governorate confirmed that 13 police officers were killed and another injured in eastern Iğdır province after PKK terrorists attacked a shuttle bus carrying them, while in another attack, a special operations police officer was killed by the PKK terrorists in the eastern Tunceli province while he was in his private car with his daughter.
The police officers in Iğdır were escorting customs officials performing duty at the Dilucu border crossing between Turkey and Azerbaijan. Just as the bus was passing Hasanhan village in the district, the PKK terrorists detonated bombs they had previously planted on the road.
One of the killed police officers in Iğdır was Fehmi Şahin, who served long years as one of the guards of former President Abdullah Gül.
Gül said on his twitter account on Tuesday, "It hurts so bad in our hearts with a new pain every day," adding, "I am deeply in sorrow for losing Fehmi and his brothers in arms to terror."
The security forces have launched an operation in the region to track the PKK terrorists.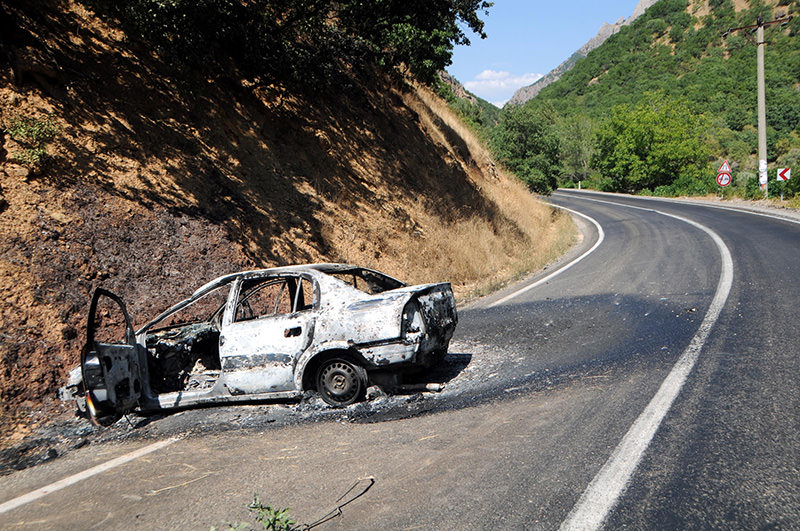 In a separate incident on Tuesday, as the 55-year-old special ops police officer Kadri Özkara was traveling from Erzincan to Tunceli, he saw that the terrorists had blocked the road and tried to flee the scene. However, Özkara was exposed to the terrorists' fire, which resulted in his death.
The police officer's daughter is reported to have escaped the attack uninjured.
The media agencies earlier reported that another group of three police officers were killed in a bomb attack in Turkey's southeastern district of Cizre in Şırnak province on Tuesday, but they then withdrew their reports, while the Şırnak governorate also denied the reports claiming that the officers were killed.
The Şırnak governorate said that a total of four police officers were wounded in a PKK rocket attack on an armored vehicle, but no casualties were reported.