The attempts by the terrorist organization PKK and its supporters to spread false information and images about the situation in Şırnak's Cizre town continues as the Şırnak governor announced on Friday that the curfew imposed on Cizre will be lifted as of Saturday.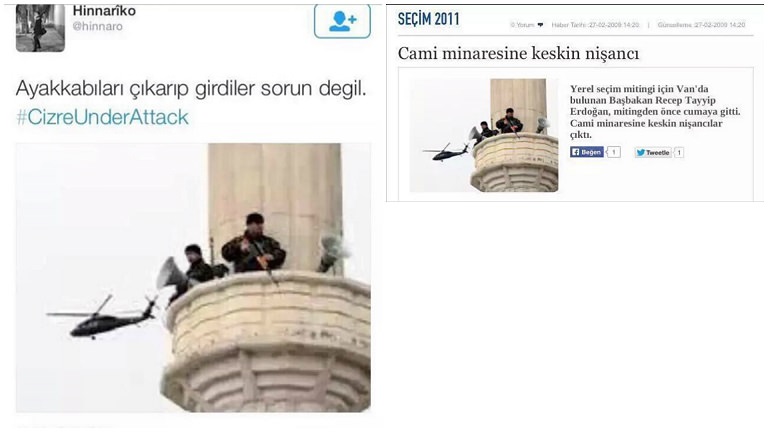 An image that has been shared on social media purports to show several Turkish snipers stationed at the top of a minaret in Cizre to threaten locals. However the picture actually was taken during President Recep Tayyip Erdoğan's visit to Van when he went to a mosque for pray.
Hundreds of other examples can be found on social media outlets which claim that the photos were taken in Cizre. When in reality they were taken in other parts of the world at completely different times, which can easily be found out by a simple image search on the internet.
The outlawed PKK has shifted its strategy to spread terror in urban areas by creating a state of chaos by digging ditches, piling up arms, preventing health officials to provide services and aiming to draw security personnel into clashes to manipulate public perception.
The PKK - designated a terrorist organization by Turkey, the U.S. and EU - renewed its terrorist campaign against the Turkish state in the aftermath of the July 20 suicide bombing in Suruç district that killed 33 people.