A 22-year-old Kurdish waiter lost his life in an attack by the PKK in the southeastern city of Diyarbakır on Friday. Şeyhmus Sanır is the latest casualty in the PKK terror campaign, which targets both security forces and civilians, mostly Kurds for whom the PKK claims to fight.
Sanır was working at his uncle's restaurant when PKK militants opened fire on a group of police officers eating at the restaurant Friday morning. Three police officers and two civilians were injured in the attack. The waiter and another civilian, 66-year-old Osman Saim Çetin, were hospitalized but both succumbed to their wounds.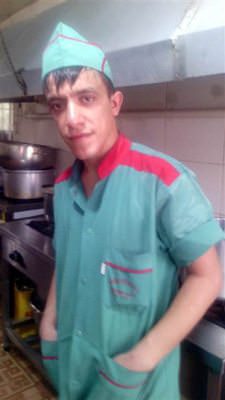 The waiter's uncle Recep Ölmez told reporters that the young man had completed his military service one month ago and started working at his restaurant. "He was waiting on a table when [they] opened fire. Two bullets hit him in the head," he said.
Authorities said a manhunt was underway to capture the perpetrators.
The PKK, designated a terrorist organization by Turkey, the United States and European Union, resumed lethal attacks in July in southeastern and eastern Turkey where a large Kurdish population lives following a lull stemming from the government-initiated reconciliation process to end the terrorism and improve the lives of the Kurdish community.
The PKK, depicted as rebels in Western media, has killed 6,741 people since the 1980s when it started its first attacks, according to statistics compiled by Anadolu Agency. The PKK dismisses civilian deaths as collateral damage in attacks targeting security forces though several instances of killings prove otherwise. In 1987, eight villagers were killed in Ortabağ, Şırnak in southeastern Turkey in one of the first major attacks targeting civilians when PKK militants threw grenades at a wedding party. Other civilian deaths are the result of similar attacks as the terrorist organization indiscriminately launched attacks against unarmed residents in villages who opposed their presence in the region.
Two days before Sanır's death, the PKK killed two civilians in Cizre, a town in the province of Şırnak. A civilian from a political party opposing the PKK was killed in a rocket attack and terrorists opening fire on a car taking the body to the hospital had killed another civilian.
Although the PKK had ceased aggressive activities after the government started the reconciliation process in 2013, the PKK made a violent comeback derailing the process in July.
Though it had limited its attacks to non-lethal operations and harassment of security forces in the past three years, it returned to its former days of violence by killing dozens of police officers and soldiers in three months in shootings and roadside bomb explosions.