Two members of the PKK terrorist group were killed on Saturday in Turkey's eastern Muş province, the local governor's office said.
Two other terrorists, who were wounded in clashes with security forces in Varto district, were detained according to a statement from the Muş governor.
One of the wounded terrorists was reportedly Abdullah Gür, who posed with a bazooka in front of ditches dug by PKK terrorists when they declared self-rule in the region back in August.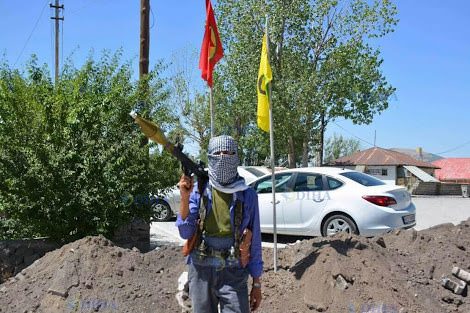 The clashes came after Turkish forces launched an operation Thursday following kidnappings by the PKK.
According to the governor's office, the operation uncovered weapons caches that included assault rifles, machine guns, a rocket launcher, hand grenades and bomb-making equipment.
Five people accused of hiding wounded terrorists were arrested, with three later remanded in custody.
After Turkey's June 7 parliamentary elections, the Kurdish Communities Union (KCK), the umbrella organization that includes the PKK, declared an end to the cease-fire that imprisoned PKK leader Abdullah Öcalan had negotiated before with the PKK initiating attacks on security forces after July 11.
The government has intensified its counterterrorism operations following the recent attacks carried out on Turkish forces and civilians by the PKK, which is recognized as a terrorist organization by the U.S., EU and Turkey.
Formed in 1978, the PKK had been fighting the Turkish government for an independent state until the early 2000s. The group then shifted its goal to autonomy in the predominately Kurdish regions of Turkey.