Following the broadcasting of a news-analysis TV program which strongly criticized Daesh, aHaber TV became the target of the terrorist organization, as its supporters flooded social media with a hashtag saying 'why isn't aHaber destroyed?'
Moderating a popular news analysis program called 'Yaz Boz,' Takvim daily's Editor-in-chief Ergün Diler and Columnist Bekir Hazar were discussing the deployment of Turkish troops in Daesh-held Mosul province in Iraq.
The program harshly criticized Daesh and asked at one point "Why isn't Raqqa –the Daesh stronghold in Syria- destroyed?"
In response to this, many pro-Daesh users have started posting messages and pictures threatening aHaber, with some saying there are 'lone wolves' within aHaber who will attack the institution.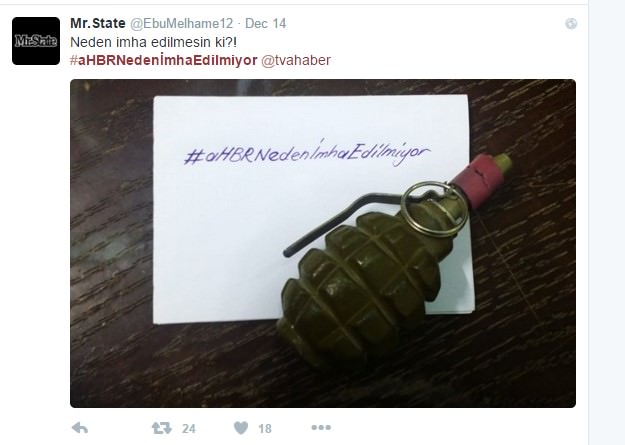 For instance, a Daesh supporter has taken a photo in front of ATV headquarter in Beşiktaş, with a piece of paper saying #aHbrNedenİmhaEdilmiyor, [#WhyIsntaHaberDestroyed] and the message: "They asked the wrong question, it should have been: WhyisntaHaberdestroyed, -rather than why isn't Raqqa destroyed-" adding that 'lone wolves are waiting to carry out their duty.'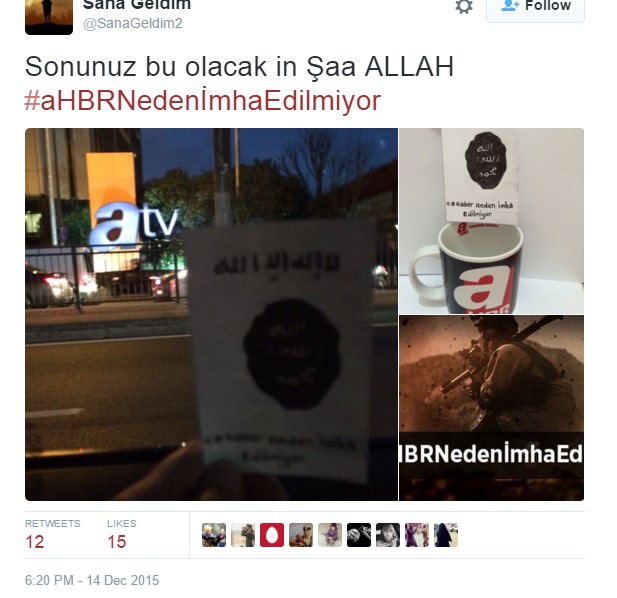 Another has taken a photo of the same message posted by other Daesh supporters, placed on an aHaber mug.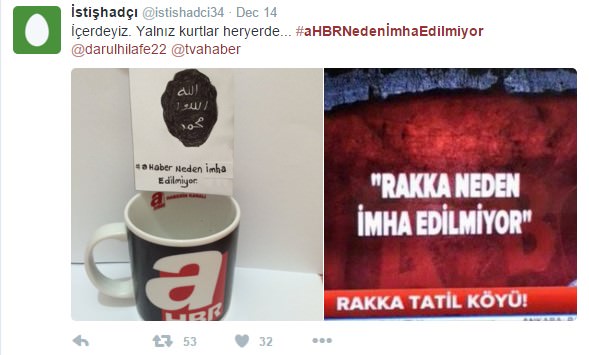 Turkey has been carrying out anti-terrorism operations and has tightened border security in efforts to stem the flow of Daesh terrorists.
On Wednesday, Daesh terrorists have attacked Bashiqa camp located in Iraq's Mosul province - where Turkish troops were deployed- killing two and injuring six, including four Turkish soldiers.
Turkish troops have immediately returned fire on Daesh terrorists following the attack, Turkish officials have said, while the Turkish military said in a written statement that Daesh attacked the camp with Katyusha rockets. Sources from the Turkish Ministry of Foreign Affairs said later on the same day that Daesh targets in the area have been destroyed by Turkish forces.