It was Women's Day at Beştepe presidential complex where 250 women were special guests at a reception with President Recep Tayyip Erdoğan.
Most guests were women who made the headlines for heroic acts and sacrifices, while Erdoğan placed emphasis on mothers and heaped praise on motherhood. The president also lashed out at exploitation of women and denounced terrorist organizations' employing of women. Addressing an all-female audience, Erdoğan first greeted "stoic women of Anatolia" and "women oppressed all across the world." "Women deserve respect no matter what they do, be it doing chores at home or working," he stated.
The president said he has strived for women to have a more active role in society during his political career of 40 years. "Politics without women, administration of a country without having any woman having a say in it, is a serious problem for an entire society. It is impossible for a country to be developed if women do not work," he said.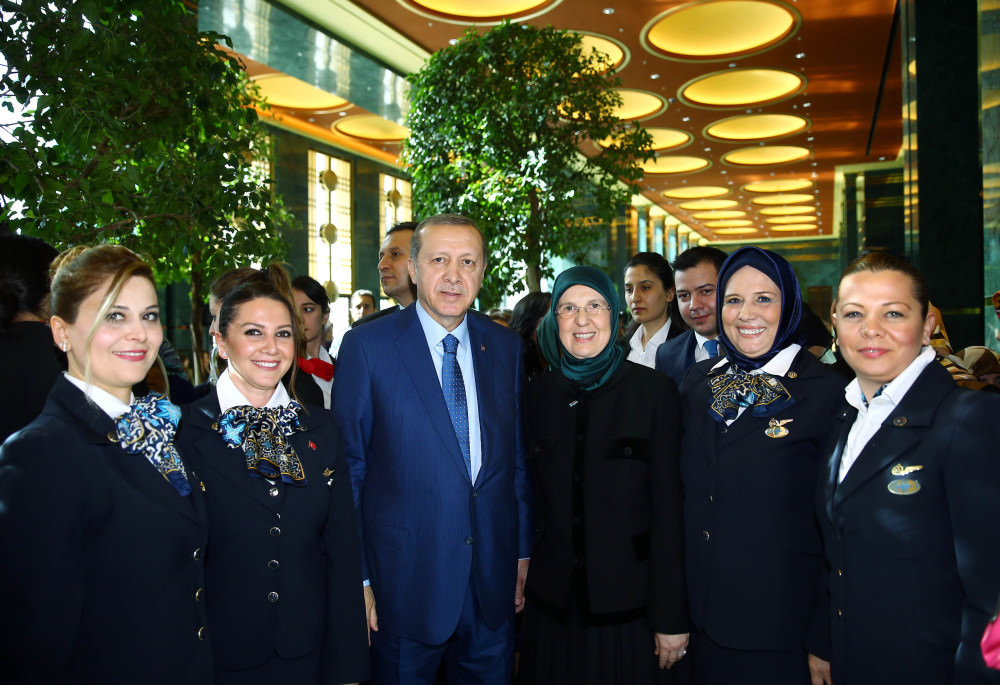 Women have gained a significant place in politics lately and official figures show the proportion of female lawmakers, which was 4.5 percent in 1935, has risen to 14.7 percent since then in recent years, while women make up 7.4 percent of the cabinet.
Erdoğan added that women and men are not "rivals" but rather "complementary of each other." The president also hit out at feminist trends. "If you merely focus on gender, you miss a point of view where women and men are only human beings (and equal in this sense)," he said.
To underline the equality, Erdoğan invited women with wildly different lives, though the majority of them were women who have overcome challenges in a male-dominated society. Female governors, university presidents and Syrian refugee women joined female cleaners in the presidential complex's staff, along with mothers and wives of "martyrs" or police and military officers who were killed in anti-terror operations. Mahinur Tunca, who risked her life to save her bedridden husband in an Istanbul fire, Tülay Yazlık, an elderly woman who saved her husband's life by cardiopulmonary resuscitation after he had a heart attack, were among other guests. They joined Leyla Ildırlı, who for 13 years cared for an 81-year-old homeless man, Türkan Harmankaya who turned down the invitation not to leave her disabled son she adopted before her son was also invited and Sevim Koçak, who worked as a shoe shiner for years to pay for her two children's tuition.
The president also met Semin Öztürk, Turkey's first female aerobatics pilot and flight attendant Sinem Aydemir who saved the life of an infant during a flight, as the baby was about to choke on an item stuck in her throat. "Women of this country have been humiliated for years in the name of so-called liberation. These efforts gave way to our daughters to be deprived of university education and to be [psychologically] tortured [to remove their hijab]," he said, referring to the infamous period in the 1990s. Female students were the target of the secular elite denigrating Muslims for wearing the hijab and were forced to remove their hijabs in order to enroll in universities in the decade that saw a military coup, drawing the ire of the conservative society. "Some people insist on relating societies of the East, the religion and traditions to despotism and cruelty. They see family and religion as an obstacle to the liberation of women. They consider Islam not a religion valuing women, but a faith depriving women of a personality," he added.
The president also scolded criticism of his calls for every family to have at least three children and said population growth is needed for the development of Turkey, which is "dependent on a young and dynamic population."
Erdoğan also criticized terrorist organizations exploiting women. "We will never allow terrorists to poison our daughters. It will be a long struggle but we will fight," he said. Erdoğan recalled his meeting with mothers of women who joined the PKK terrorist organization. "They told me their daughters were brainwashed to join [the PKK]," he said. He said there was no difference between the PKK, DAESH and other terrorist organizations in terms of their approach to women. "They see women only as tools. You see how the parallel gang use women they brainwashed for years today," he said, referring to riots outside a Gülenist newspaper where women supporting the Gülenist Terror Organization (FETÖ) confronted police over a court decision to seize the assets of the newspaper acting as a mouthpiece for the shady group. He decried the portrayal of women merely by their gender in an effort to show them in a positive light when they were killed in terror attacks, referring to an infamous headline in a newspaper that had said "two women were killed" after last week's attack on police in Istanbul, in reference to two female terrorists, while shying away from naming them terrorists.
A lifetime against the odds for woman married at 13

İlhan Güneroğlu was among the guests of President Recep Tayyip Erdoğan on the occasion of International Women's Day. Her life is a mix of constant drama and fighting against poverty. The 60-year-old mother of three saw her life dramatically change when she was forced to get married at the age of 13. She found out she would get married to a man the day she graduated from primary school. "My parents asked me if I wanted to get married. I was so young. I was silent because I was scared. They married me off to him anyway," she recalled in her home, in her hometown of Mardin in southeastern Turkey.
She was married for seven years when her husband died from an illness. "We were poor and I had to work to take care of him for years because he couldn't work. I knitted and sold clothes to buy medicine for him. I had two babies at home and a daughter in school when he died. I had no money but I had to take care of my children. I continued knitting and worked almost all day. My oldest daughter used to sell my products in the marketplace, but what I earned was good enough only to buy bread," she said. She worked hard to take care of her children for years, and had all of them enrolled in school at a time most families did not send their daughters to school, but rather forced them to get married or work. "I had little money to buy textbooks for them. I didn't sleep at night so I could knit in order for my children to have something to eat and the ability to go to school," she said.
Her daughters are now grown and working, while Güneroğlu finally has a steady income thanks to her eligibility for social benefits. But this did not stop her from working. Now, she attends lifelong learning classes and received a certificate in computer literacy. She now plans to finish her schooling. "My problems finally ended and I feel relieved," after she raised her children, all educated, married and employed now. "Women are strong, but they need to be empowered so that they can be aware of their strength. All women should work so they can have better lives. I also advise women who fought poverty like me not to give up and study," she said.