Ensar Foundation, a prominent non-governmental organization, took legal steps on Wednesday to be part of the lawsuit and legal action against a pedophile suspect who once briefly volunteered for the charity and bashed defamation of the NGO.
Shocking revelations earlier this month concerning the sexual abuse of students by a teacher in central Turkey has fueled a debate about pedophilia in Turkey.
The debate soon drifted into Islamophobic territory, as fierce critics of the religion took the chance to hit out at "Islamists," claiming there were ties between the teacher and Ensar Foundation where he briefly volunteered. Indeed the suspect, identified as M.B. by police, volunteered for five months for Ensar Foundation, known for offering religious education to boys and girls, amid other charity work.
The foundation now complains that they have been unfairly targeted in the criticism of the teacher who currently faces multiple life sentences.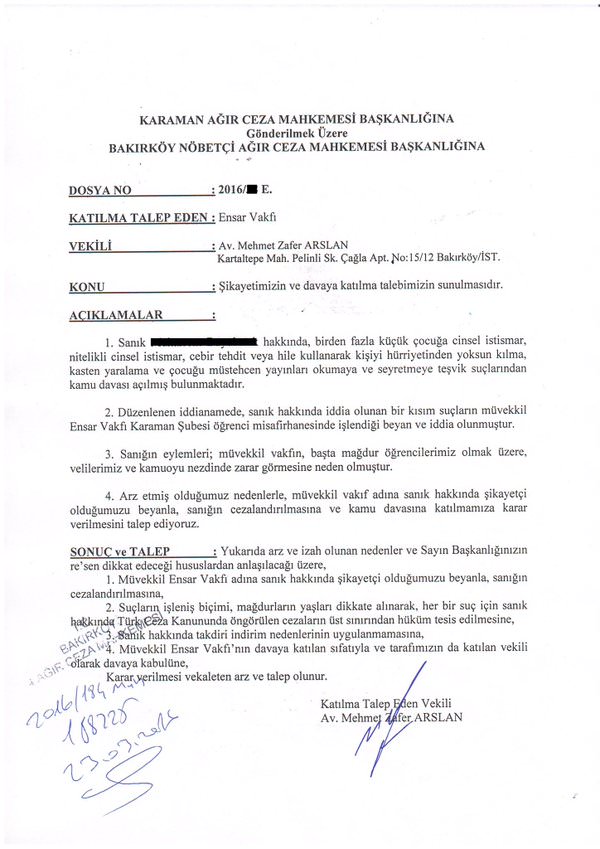 Petition submitted by Ensar Foundation to the court to be a part of the lawsuit against the suspect M.B.

Ensar Foundation has denied any link with the teacher besides his brief stint as volunteer in 2013, one year before the first instance of sexual abuse by M.B. took place, according to prosecutors seeking sentences for the arrested defendant.
The foundation denounced criticism, which "ignored the legal principle of individual criminal responsibility. "
The defamation apparently aims to hurt the reputation of the faithful rather than condemning the abuse of children," a statement released by the foundation said. Ensar Foundation vowed to take legal action against the defamation campaign.

The NGO, established in 1979, has branches across the country and focuses on education, offering classes, scholarships and accommodation to students. The foundation's president, İsmail Cenk Dilberoğlu, said in an interview with a newspaper that they would never cover up the incident as claimed and would be active in the legal process for the punishment of the defendant. He said Ensar Foundation hosted tens of thousands of people in the dormitories it owned for decades and volunteers from all walks of life. Dilberoğlu said people trusted the NGO for its work and this trust would help them to restore the image spoiled by the defamation campaign.

Repeated statements and the interview did not stop several columnists, social media users and others from branding the foundation as protecting a pedophile, and a defamation campaign has descended into an all-out criticism of Islam and the ruling Justice and Development Party (AK Party). This critique worsened in social media, with users explicitly blaming the government and Islam, which they accuse of encouraging pedophilia. The case and the media fallout are dire reminders of a witch hunt against conservatives in Turkey, before and after the 1997 coup process, where stories of "teachers abusing and beating students at Islamic schools" was a common staple of dubious news stories accused of propagating hatred toward Muslims.