Labor Day, an occasion for labor unions to air their grievances, has been synonymous with violence in Turkey for decades as far-left groups often exploit events to mark the day to incite riots. Thus, the public was surprised to see peaceful events on Sunday save for minor scuffles in Istanbul and the cancellation of rallies in southern Turkey over terror concerns.
Istanbul is at the heart of Labor Day rallies, as the country's most populated city has been known for violent riots on that day for years. Tight security measures and labor unions giving up their insistence to mark the day at the city's Taksim Square factored into the reduction of violence in the city.
Taksim Square was closed to Labor Day rallies from 1978 until 2010, following a massacre in the square in 1977 when unidentified gunmen opened fire on a crowd, leading to 34 deaths due to gunfire and the ensuing stampede and police crackdown. Rallies in 2010 were peaceful, but after the ban was reinstated in 2012, protests again turned violent.
This year, labor unions decided to skip Taksim Square and opted for a square in Istanbul's Bakırköy district. Thouands of people streamed into the square in the morning for rallies after they were searched by police officers at the checkpoints set up on the streets leading to the square on the city's European side.
Police also blocked all streets to Taksim Square and the square itself was heavily policed. A few senior officials from a right-wing labor union were allowed to lay wreaths at Republic Monument in the middle of the square in memory of the 1977 massacre victims.
Despite the ban, some small groups of rioters from radical left-wing groups attempted to march to Taksim. Riot police intervened, which led to a clash. More than 170 people were detained across the city according to media outlets after they clashed with riot police.
Some 6,000 police officers were deployed in Bakırköy while 15,000 police officers were on duty across the city against possible riots. TOMAs, armored vehicles equipped with water cannons, were also deployed as part of the security measures. State-run Anadolu Agency (AA) reported as many as 24,500 police officers patrolled the streets of Istanbul on the occasion.
The rallies were expected to disrupt the city's mass transit network, but with the exception of a suspension of subway services to Taksim, all mass transit vehicles operated normally, unlike in the past years when the city's most popular means of transit, the Metrobus, was partially suspended.
One person trying to cross the road in Tarlabaşı Avenue near Taksim Square was hit by water cannon trying to maneuver at the scene. 57-year-old Nail Mavuş died at the nearby Şişli Hamidiye Etfal Hospital hospital despite all efforts. An investigation has been launched into the incident.
The Confederation of Progressive Trade Unions of Turkey (DİSK), The Confederation of Public Employees' Trade Unions (KESK), The Union of Chambers of Turkish Engineers and Architects (TMMOB) and The Turkish Medical Association (TTA), major left-wing trade unions and professional associations, have chosen Bakırköy for their Labor Day celebrations. They were joined by Republican People's Party (CHP) and People's Democratic Party (HDP) delegations, along with several other left-wing parties. A small clash between the HDP group and the police broke out as the group reacted to the police search at the entrance of demonstration area, citing previous measures.
In the Turkish capital, Ankara police have detained four people suspected of trying to infiltrate an annual May 1 International Labor Day rally. Turkish security officials told AA that the Ankara police-intelligence department detained four Daesh linked suspects at the intercity bus terminal, known as AŞTİ. The four reportedly came from Syria and carried Iraqi passports. The suspects were transferred to the city's anti-terror department for questioning. The city saw its first mass meeting since October 10, 2015, when two Daesh suicide bombers attacked a peace rally organized by left-wing and pro-Kurdish political parties and trade unions, killing 103 people and injuring hundreds in Turkey's deadliest terror attack.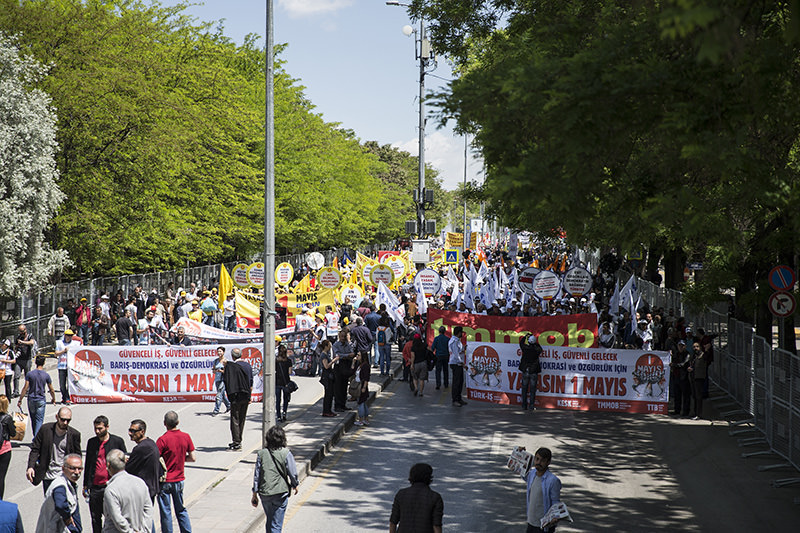 Over 4,000 police officers were on duty in Ankara. Security measures have been tightened in Kolej circle, near Kızılay in the city center, where Labor Day demonstrations take place.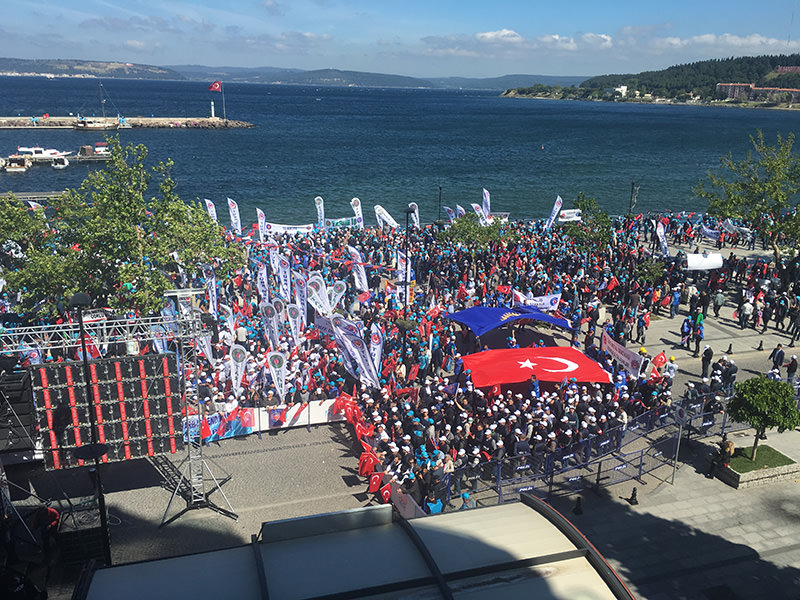 Other labor unions opted to mark the day in other cities. The Confederation of Turkish Trade Unions (Türk-İş), Turkey's largest trade union, held its main demonstration in western province of Çanakkale.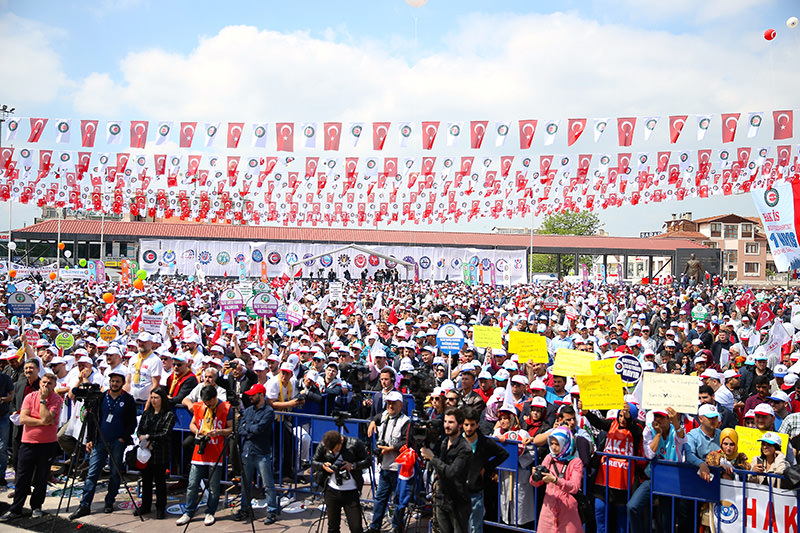 The right-leaning Confederation of Turkish Real Trade Unions (Hak-İş), another major trade union, chose northwestern Sakarya province, an industrial hub east of Istanbul.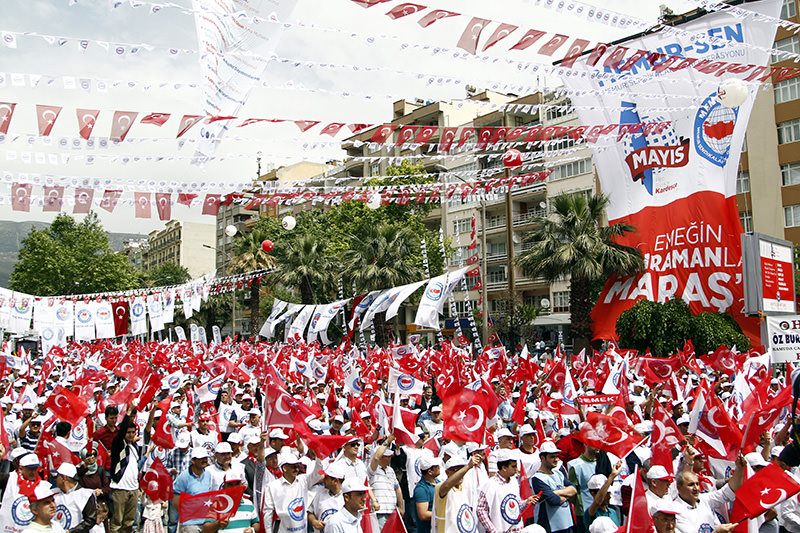 Largest public employee trade union of Turkey, the Confederation of Public Servants Trade Unions (Memur-Sen), held Labor Day celebrations in southern Kahramanmaraş province.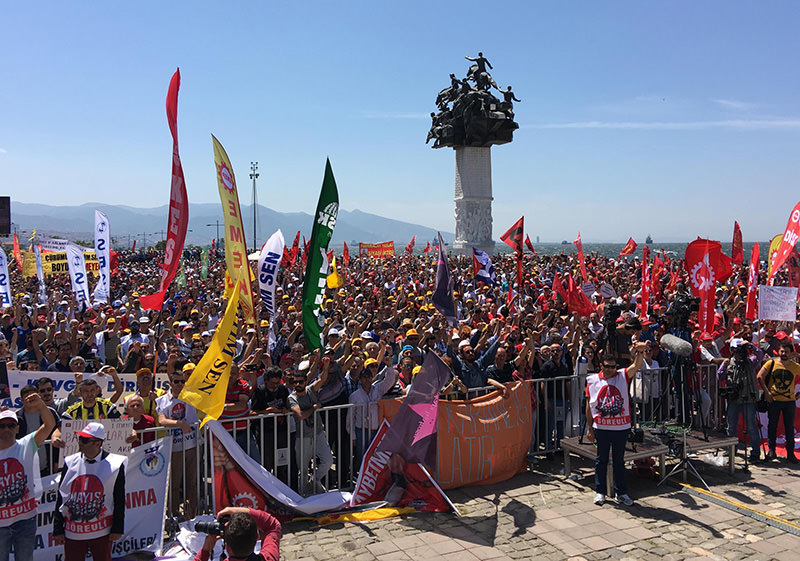 Thousands have attended the Labor Day celebrations in Izmir's Gündoğdu Square, which saw a minor protest of police measures by a small anarchist group undressing in front of police checkpoint.
Rallies in southern Gaziantep, Şanlıurfa and Adana provinces were cancelled following the deadly car bomb attack in Gaziantep police headquarters in early Sunday, and intelligence reports that Şanlıurfa and Adana rallies may be targeted by terrorists.
Labor Day rallies in the past have seen confrontations between labor union members and police, as authorities have repeatedly banned rallies in Taksim, citing security concerns and ongoing construction for the redevelopment project at the square. Confrontations have led to riots almost every year in the past decade, with far-left groups and terrorist organizations taking the opportunity to attack police blocking the roads leading to Taksim.
For many residents of the city, Labor Day means staying indoors instead of going about their daily business and avoiding areas around the city center to avoid inhaling tear gas fired by police as well as meeting a shower of stones and Molotov cocktails from demonstrators. Last year, labor union members and several radical groups clashed with police across Istanbul and dozens of people were detained when they resisted the forced dispersal of rallies.
President Erdoğan, PM Davutoğlu mark Labor Day
President Recep Tayyip Erdoğan has said "mutual dialogue and reconciliation" should mark talks between Turkish workers, unions, employers and civil society.
In his May 1 message issued on International Labor Day, Erdoğan said he hoped the occasion would "strengthen work, peace and unity" and warned against what he called "provocation".
Prime Minister Ahmet Davutoğlu hosted workers at a breakfast held in the prime ministry office at Çankaya Palace in Ankara to mark Labor Day.
May 1 is celebrated by many labor unions and workers worldwide. May Day is generally a public holiday in many countries and is an official holiday in Turkey.