An exhibition displaying photographs of a mosque set ablaze twice by PKK was inaugurated in southeastern Diyarbakır province on Wednesday.
The 16th century Ottoman-era Fatih PaŞa Mosque, also known as Kurşunlu (leaded) Mosque because of its lead-covered dome, was set ablaze in Diyarbakır's Sur district in December 2015.
The mosque is also located in an area where the terrorists dug ditches on the streets for street clashes and set up explosive-laden booby traps. The area also houses several other historic mosques as well as Armenian Catholic and Protestant churches.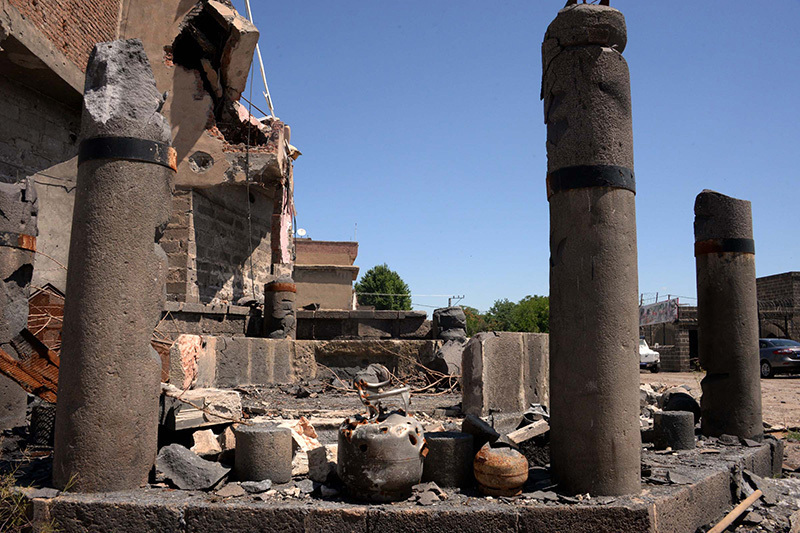 The exhibition, which ends Friday at Dicle University Art Gallery, shows the condition of the mosque before and after the PKK attack.
İrfan Yıldız, a lecturer at Dicle University's Fine Arts Department, which organized the exhibition, told Turkey's state-run Anadolu Agency (AA) that two photographs showing the same mosque in the years 1940 and 1960 were also displayed.
The PKK attack left the original doors and shutters burnt, and the walls damaged, Yıldız said.
"Under no circumstances sanctuaries should be damaged. People survive with their cultures and leave some marks for the next generations. The easiest way to destroy a society is to destroy its culture," he added.
Related: PKK burns oldest Ottoman era mosque in southeast Turkey