The live fire stage of the Efes-2016 military exercise hosted by the Turkish Armed Forces kicked off on Monday in the Seferihisar district of the western city of İzmir. The two-day drill is a landmark event, as it hosted its first international edition touted by the Turkish media as the biggest multinational military exercise. The exercise is also an opportunity for Turkey to test its locally made Atak military helicopter and the Bayraktar unmanned aerial vehicle.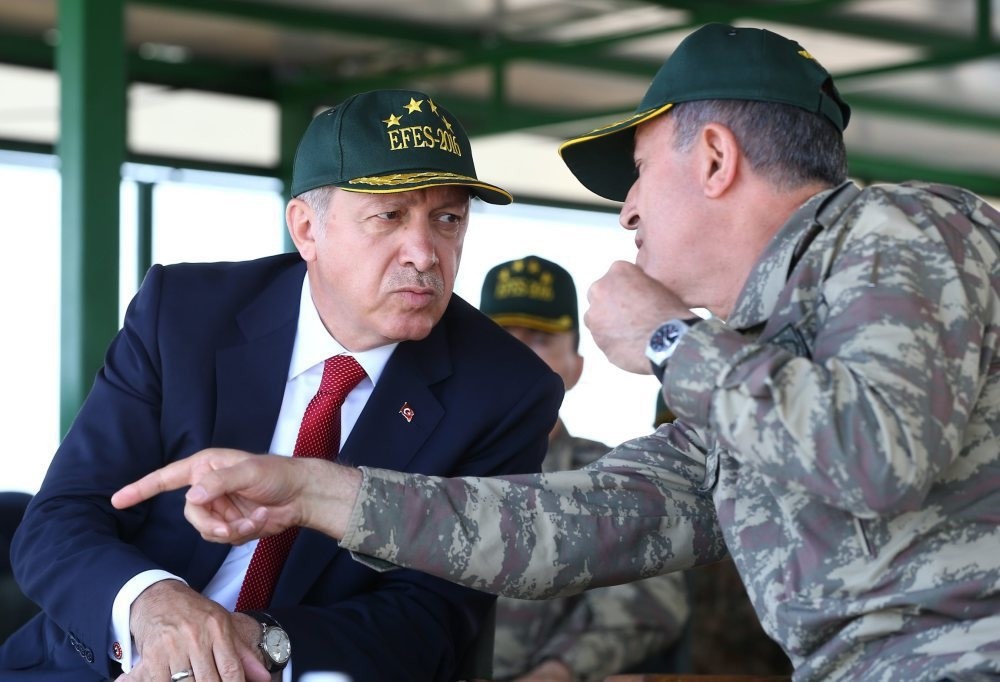 President Erdoğan (L) and Gen. Akar watch the exercise together.
The exercise comes at a time when Turkey is bolstering its efforts to increase its defenses and defensive alliances in the international community, in the face of a rising terror threat and escalated war in neighboring Syria. Some 900 military staff from Turkey's major allies United States, Azerbaijan, Qatar, Saudi Arabia, United Kingdom, Pakistan, Poland and Germany participated in the exercise. Authorities said the international edition of the exercise would be biennial.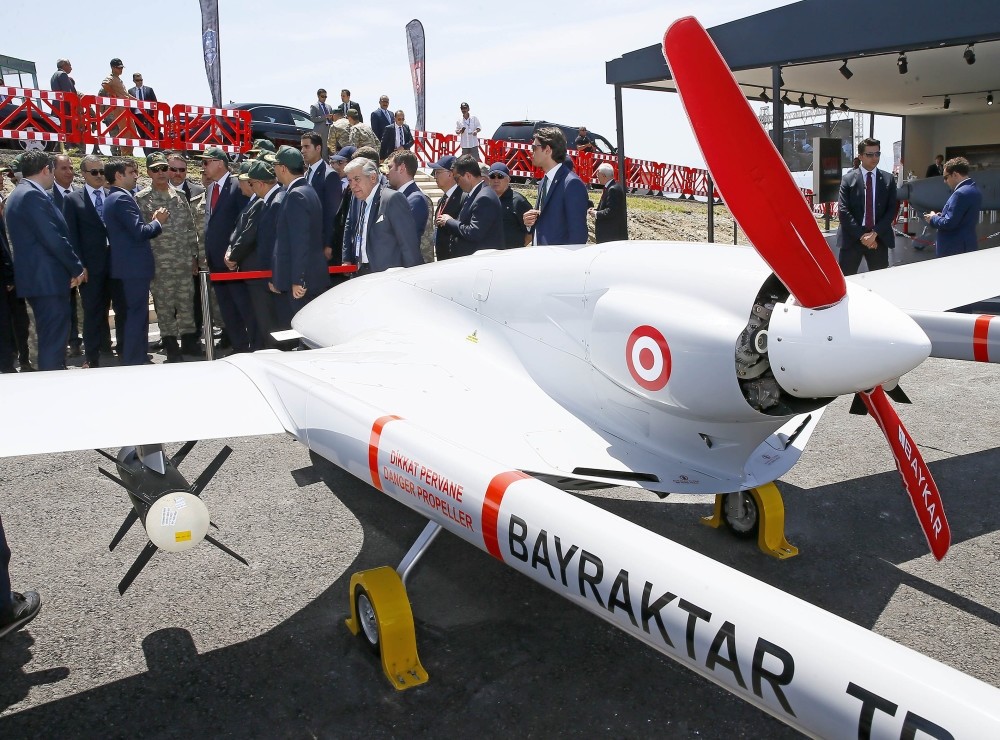 President Recep Tayyip Erdoğan and Prime Minister Binali Yıldırım joined Chief of General Staff Gen. Hulusi Akar yesterday to watch the exercise, coined after the Turkish name for the ancient city of Ephesus, which is located in present-day İzmir's Selçuk district. The 255 delegates from 79 countries watching the exercise included Azerbaijani Defense Minister Zakir Hasanov, Saudi Chief of General Staff Abdulrahman Saleh al-Bunyan, Qatari Chief of General Staff Ghanim bin Shaheen al-Ghanim, Ukrainian Chief of General Staff Viktor Muzhenko, United States Army Europe commander Lt. Gen. Ben Hodges, Japanese Ground Self-Defense Force Commander Kiyofumi Iwata and Pakistani Army Chief of Staff Raheel Sharif.
The exercise's highlights included the Turkish army's use of locally made vehicles, as Turkey seeks to end foreign dependence in the defense industry and endeavors for fully domestic production of aerial, land and maritime vehicles, weapons and other defense equipment.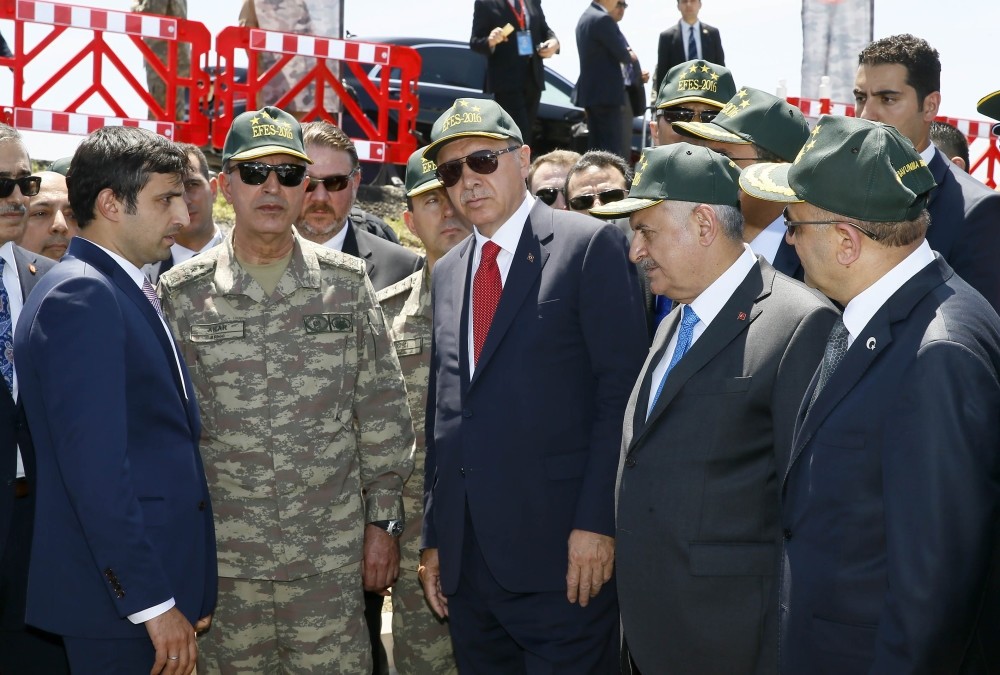 Selçuk Bayraktar (L) briefs Chief of General Staff Gen. Eker (2-L) President Erdoğan (2-R) and Prime Minister Yıldırım (R) on the Bayraktar drone (above) his company, Baykar, produced.
The Turkish-engineered tactical unmanned aerial vehicle (UAV) Bayraktar TB2 provided visual intelligence for army units. Bayraktar is developed by Baykar A.Ş., and is touted as the first locally made UAV. It was already commissioned by the Turkish Armed Forces but it made its first exercise debut at Efes-2016, giving the public a chance to see it in action.
Bayraktar TB2 has been in use by military since last year both in daytime and nighttime operations for reconnaissance and clocked a flight time of 3,000 hours. It is also country's first nationally-made armed drone and is capable of firing smart ammunition projectiles.
The ATAK (attack) helicopter, developed by Turkish Aerospace Industries (TAI) and AgustaWestland performed its first live-fire exercise in Efes-2016.
The helicopter, first commissioned by the Turkish Armed Forces in May 2014, is designed for attack and reconnaissance missions and is already exported to militaries around the world.
Its maneuverability allowing climbing at angles close to 90 degrees is hailed as a key element for military missions in steep terrain, especially the mountainous areas in southeastern Turkey where the Turkish military has conducted an anti-terror campaign against the PKK terrorist organization over the last year. The helicopter has a cruising speed of 269 kilometers per hour and is equipped with a laser rangefinder providing targeting even in low visibility.
TCG Heybeliada, the first Turkish-made corvette developed as part of the National Ship Project (MİLGEM), also joined the exercise.
Participating troops acted out scenarios regarding counter-terror operations and cyber warfare throughout the exercise. Participants performed an aid mission for the imaginary country of Arnlad seeking United Nations assistance against invasion by another country.
During the exercise on Monday and Tuesday, a beachhead operation scenario was performed with troops making an incursion to the shore accompanied by fighter jets from Saudi Arabia, while ATAK and other helicopters hit targets on the coast. Five snipers from Turkey, Poland, Qatar, Saudi Arabia and Azerbaijan flanked the troops in Tuesday's scenario.