Pro-democracy rallies in support of the elected government and president continue more than two weeks after an attempt to seize power on July 15 by a military junta loyal to the Gülenist Terror Organization (FETÖ). The public took to the streets in response to calls by President Recep Tayyip Erdoğan and Prime Minister Binali Yıldırım to show national solidarity against coup plotters, has apparently not lost interest, as rallies continue to be held every night in all cities across the country. A large turnout is visible in almost all rallies, even in small towns, although the rallies are likely in its last week, as Erdoğan revealed a grand rally scheduled for Sunday in Istanbul's Yenikapı Square which will be a culmination of previous pro-democracy events.
On Tuesday night, squares and streets were filled with people waving Turkish flags in the rally, while politicians, celebrities, dignitaries address the fervent masses, denouncing the coup plotters and FETÖ, accused of masterminding the foiled putsch.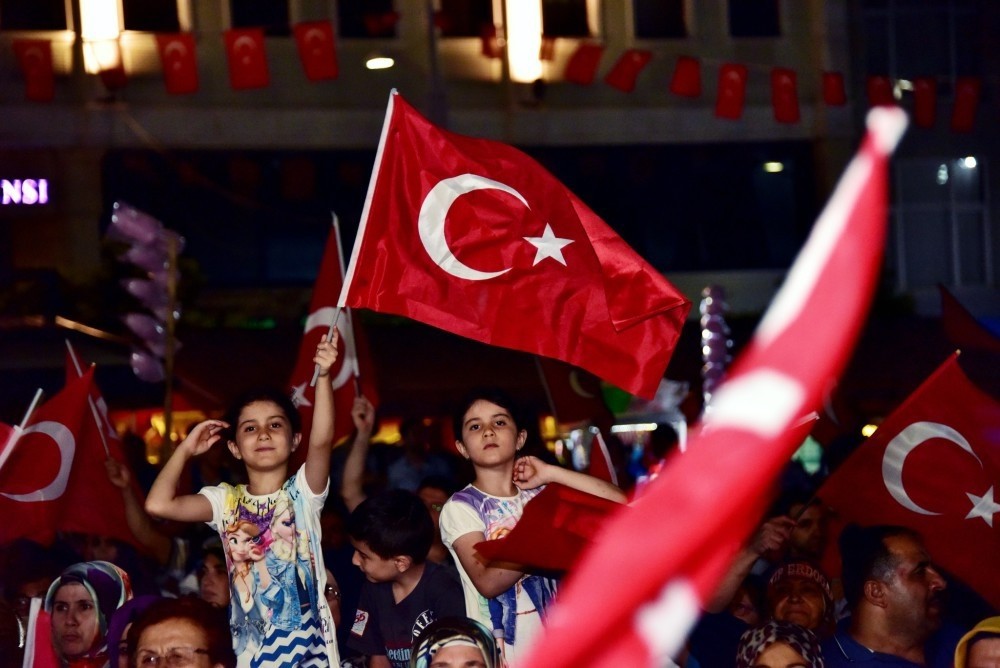 Democracy rallies are still all the rage across the country since July 15 coup attempt. People gathered in Samsun, Manisa, Ankara and other cities on Tuesday night for pro-democracy events.
In Ankara, thousands pour into Kızılay Square for the event. Some carry flags, while others carry large photos of the martyrs, those who were killed by coup plotters. Giant screens erected at the square broadcast footage from the night of the coup, when an unprecedented public resistance stopped tanks and coup troops.
A pro-democracy crowd remains present outside the presidential complex. To the delight of hundreds gathered there, President Recep Tayyip Erdoğan made an appearance in the late hours and briefly chatted with demonstrators.
In Ankara's Kazan district, near the Akıncı military base where army's commanders were held hostage by coup plotters and locals resisted coup troops at the cost of their lives, Deputy Prime Minister Tuğrul Türkeş addressed a crowd of democracy supporters. Türkeş said the public was the most important element of the resistance against the coup. "They tried to attack Turkey with the state's own warplanes, tanks and weapons, but nobody responded them with weapons. People did not fire even an airgun, and stood against coup plotters with their bare hands. This is something that should be respected," Türkeş said. Türkeş praised the opposition parties for "passing an important test on July 15" by taking side with democracy and the government during the coup attempt. Türkeş, son of a former military officer, said the Turkish Armed Forces had a noble history and this nobility should not be tarnished because of "terrorists," an oblique reference to Gülenist junta troops.
Yıldırım addressed the squares via video link, with a live broadcast interview by several TV stations shown on screens, set up at democracy rallies across the country.
At Yenikapı square, crews work to prepare the site for Sunday's rally, which expects hundreds of thousands of people. President Erdoğan and Prime Minister Yıldırım will attend the rally while leaders from the opposition parties are also invited. The chief opposition Republican People's Party (CHP) will send a delegation, although Chairman Kemal Kılıçdaroğlu will not attend. When Daily Sabah went to print, the Nationalist Movement Party (MHP) was still considering the offer by Erdoğan to attend the rally.
Families of those killed by coup troops and those injured in attacks by the Gülenist junta during the putsch attempt will also attend the rally. Mehter bands, Ottoman military bands which have been present in every pro-democracy rally, will also perform in Yenikapı event. Istanbul municipality will offer free transportation to the rally.