Family and Social Policies Minister Dr. Fatma Betül Sayan-Kaya said that they have been implementing various reforms to facilitate women's participation in economic, political and social life and underlined the aim to increase the labor force participation rate to 34.5 percent and employment rate to 30 percent by the end of 2018, while adding that their 2023 projection is to increase women's labor force participation to 41 percent. Answering Daily Sabah's question about her ministry's work, Dr. Sayan-Kaya emphasized that they will continue to work on domestic violence until it is fully eliminated.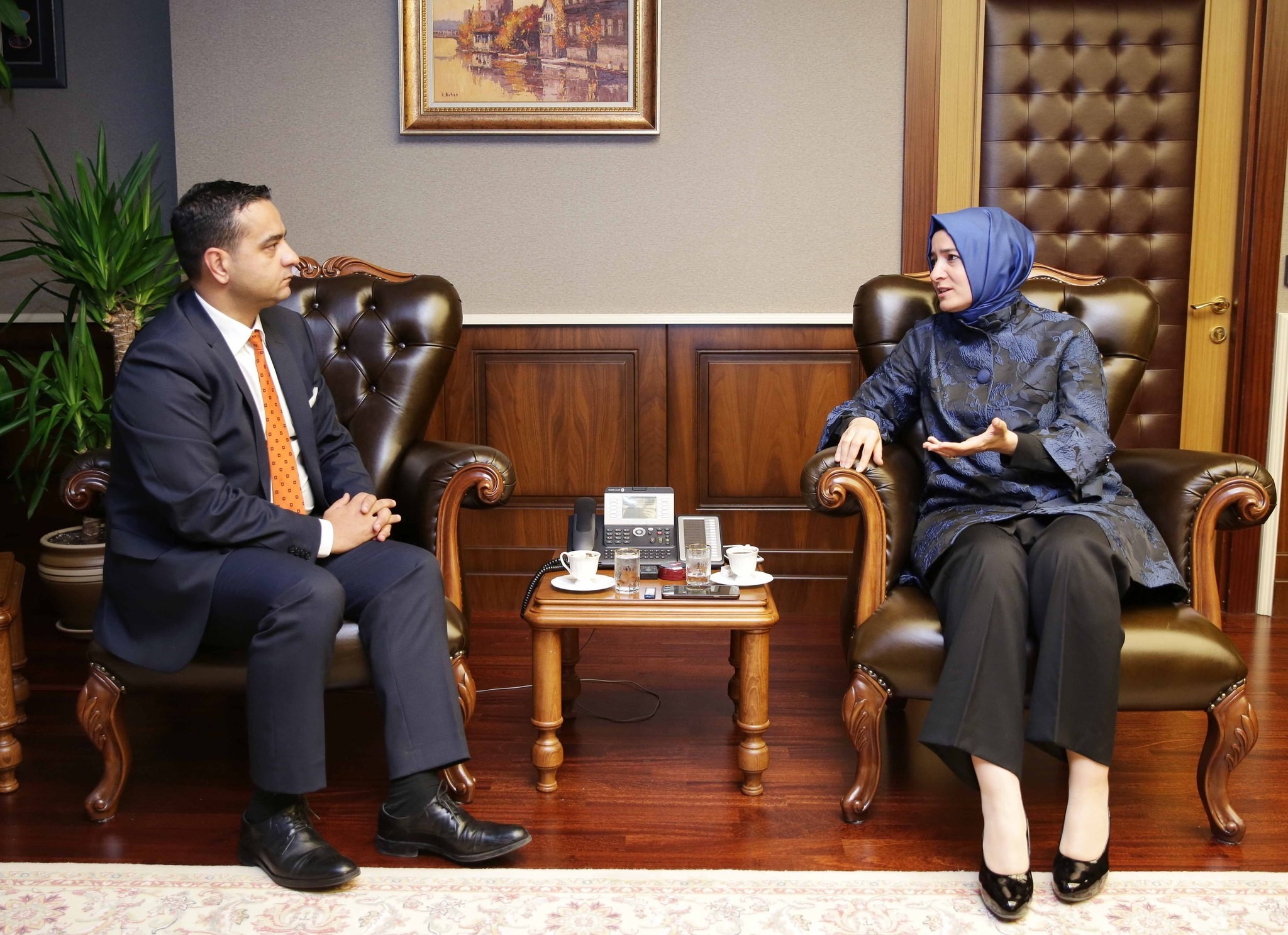 The minister added that, in this context, they are providing education on gender equality and domestic violence to public personnel and university students to create awareness and to transform the abuse mentality.
Commenting on their efforts to support victims of terrorism and their families, including the families of those who lost their lives in the failed July 15 coup attempt, Minister Sayan-Kaya said that they are continuing to provide psycho-social support in addition to financial assistance.
Responding to allegations that social welfare makes people dependent on the state and encourages laziness, Minister Sayan-Kaya said that the people being helped are those in need, stressing that aid is actually granted after strict review. She added that they do not provide aid to people whose income is above a specific level.
DS: You hosted the Sixth Ministerial Conference on Women's Role in the Development of Organization of Islamic Conference (OIC) Member States in Istanbul last week. Can you inform us about the matters discussed at the conference?
Fatma Betül Sayan Kaya:
These conferences were initiated in Istanbul in 2006 and were later organized in Cairo, Tehran, Jakarta and Baku, respectively. After a decade, it was once again organized in Istanbul. The most important topic of the conference was the establishment of Council of Women, which was voiced by President Recep Tayyip Erdoğan last year during the Islamic Summit.
A total of 26 countries participated at the level of ministers and vice presidents. The Senior Officers Meeting was held on the first day of the conference. We were in touch with the participants to form the council and asked the present ministers and vice presidents to support it. By the end of the second day, the formation of the Council of Women was decided. We believe that this council will have an important role, as it will allow us to inform the western public and administrators about Muslim women.
Moreover, the council will propose resolutions to issues of women living in Muslim countries. It will provide counsel and defend the rights of women. We asked the each OIC member country to appoint three candidates and inform the secretary general. We expect the candidates to be appointed by the end of November. We will also be appointing our candidates.
DS: You visited the families of all the victims who lost their lives in the July 15 coup attempt. What sort of services does your ministry provide for them?
FBSK:
If it weren't for the people who took the street on the night of the coup attempt on July 15, we would not be a free and democratic country today. We know that we cannot repay the sacrifices made by our martyrs and veterans. However, we are trying to do whatever we can for the families of martyrs and veterans.
When the coup attempt initially started, I was working at the ministry. Learning about the coup attempt, I went to the prime minister's residence and coordinated with the other ministers that were there. We decided to gather at the Parliament and quickly headed there. Our bureaucrats were up all night forming a crisis desk. Some went to hospitals to take care of the wounded. Right after July 15, through our provincial directorates, our ministry started to meet with martyr families and we continue to provide psychosocial support to the families of the victims. We completed the majority of the work which will allow us to cater to the needs of the martyr families and veterans, and help them benefit from certain rights granted to them by law.
During this process, President Erdoğan and Prime Minister Binali Yıldırım visited numerous veterans and families of martyrs. As the Minister of Family and Social Policies, I visited almost all the families of the martyrs and to this day I continue to visit our veterans.
The Directorate of Martyrs' Relatives and Veterans is tending the employment of members of martyrs' families, veterans and their families. We celebrated the employment of 2028 veterans, their family members and martyr family members a couple of weeks ago at the presidential compound. Up until today, we provided employment to 17,074 people.
We are closely interested in the well-being of our veterans and martyr families. We have started to give them monthly salaries and indemnities are continuing to be paid. Our personnel are visiting the victims and their families within their cities, supporting them every way they can.
DS: Can you also inform us about the support to the victims of terrorism and their families?
The families of martyrs who fell to terrorism already have the same rights of the families of the July 15 coup martyrs. Martyr families are entrusted to us; this is how we see them. In this sense, we are doing whatever we can to cater to their needs. Similarly, the veterans of terrorism are also granted indemnities, monthly salaries and easy access to social aid.
Additionally, there are many rights granted to the civilian victims of terrorism. We paid indemnities to the families of who were murdered and, since Oct. 2015, we have been providing them with monthly salaries. We have also passed a law which allows the veterans themselves or one of their close family members to benefit from the right of employment.
Regarding the rights granted to citizens who contribute to the fight against terrorism, indemnities were paid to the families of who have fallen to terrorism, while the veterans were provided with employment. Moreover, in monthly payments to the parents of the fallen, the requirement of being under the poverty line was removed. Those who are unable to take care of themselves are granted the right to benefit from public and private rehabilitation centers and nursing homes.
DS: What is being done for the disabled and elderly?
To begin with, I should state that we desire the disabled and the elderly to live with their families, if, of course that is possible. Therefore, we made some reforms which allow home care. With our services, the public perception of the disabled and elderly has changed immensely.
By radically reforming Law 6518, which was passed in 2014, we strengthened the understanding of family-based service. Approximately TL 3.7 billion ($1.1378 billion) was spent for home care services on 481,000 family members of the disabled by the end of Sept. 2016.
We are trying to improve the quality of our services while simultaneously improving our capacity. We are planning to add 10 Houses of Hope to the existing 125 Houses of Hope all across Turkey. In 2017, we are planning to open 52 of these facilities.
We have taken certain measures to increase the participation of the disabled to the work force and education. While there were 6000 civil servants in 2002, this number increased to 43,000 by 2016. Moreover, while there were 46,000 disabled working in both the public and private sectors in 2002, this number reached 99,000 by April 2016.
We are working on plans to increase inclusion of disabled people in every aspect of life. Accessibility is one of the most important components of these plans. Accessibility is also crucial in increasing the social awareness about the issue.
We are providing free education to the disabled in special education and rehabilitation centers, which allow them to be educated without being excluded from society. Today, around 288,000 children are benefiting from these special education facilities.
DS: It is true that there is an increase in the extent and budget of social welfare. However, there are allegations that social welfare makes people dependent on the state and encourages laziness. What is your response?
We are trying to create a just system. We are helping people who are in need and these aids are actually granted after strict inspections. While we encourage the able-bodied to seek employment, we are not providing help to people who are above a certain income level. Helping the needy is an important element of a social state, as it contributes to society's peace and prosperity.
We are currently working on a plan which will first encourage the needy to seek employment. We want everybody who is able to be employed; however, due to various reasons we will continue to provide social support to those who are in need.
One of our aims in providing social support is to encourage the families to regularly send their children to school. For this reason, we have a fund named the "Conditional Education Support," from which almost two million households benefit.
As a result of our research, we have found out that this application decreased the absence rate by 50 percent. In comparison with male students, it was also discovered that female students have as much as twice as less absences. Moreover, the attendance rates at high schools increased up to 80 percent.
DS: In the past months, the Swedish FM's tweet alleging that children are being molested in Turkey had caused much debate. What is the cause of this information pollution? Can you provide information about a practice that protects children?
Unfortunately, this whole event occurred because of misinformation. This was an attempt to create an ill-intentioned and irrelevant discussion about a decision made by the Constitutional Court.
With Law 6545, which was also introduced in 2014, the punishments for child molestation were significantly increased. While petty crime was normally punished with 3-8 years of imprisonment, it was significantly increased to 8-to-15 years. Major crimes were similarly increased from 8-to-15 years to a minimum of 16 years.
Our ministry and lawmakers have shown their determination to severely punish these offenses against children. However, the first and second subsections of Article 103 of the law were taken to the Constitutional Court and annulled. In the decision about the second subsection, the Constitutional Court provided a year's time to lawmakers to revise the subsection. As the decision of Constitutional Court was published on Dec. 11, 2015 in the official gazette, the revision must be concluded until the same date this year.
Due to the provided period of time, the law is still in effect; thus, there aren't any legal loopholes. Moreover, we won't allow reduced sentences for such crimes. Parliament will revise the law in the mean time to make sure the criminals are getting their just punishments.
On the other hand, we also have effective measures against these crimes in the executive. We are coordinating with every related institution, state or private, to provide social services and aid to the children.
DS: Prime Minister Yıldırım had announced that they were working on new social projects that would prevent youth from joining the PKK during the AK Party's Afyon camp. Can you elaborate on these projects?
The most important part is the children's attendance to their schools and staying together with their families. Many projects which have been introduced in the region are about the vocational training and employment of women and youth.
Our government is working hard to mend the wounds caused by terrorism. We have continued the work to rebuild 36,000 destroyed houses with the entire infrastructure involved. We are also working to restore historical artifacts, especially in the Sur district. Moreover, we are swiftly implementing socio-cultural programs which will prevent the PKK from recruiting our youth.
With another project, we will also provide the necessary training to women for employment. The institutions we will establish will have kindergartens, allowing women with children to participate in these trainings.
DS: What kinds of initiatives are there to increase the employment and participation of women in work rates?
We have Family Support Centers (ADEM), which is crucial in providing vocational training to women, allowing them to be a part of social life. We will be increasing the numbers of these centers.
Moreover, the AK Party granted women the rights for maternity leave and allowed women with newborn children to work part-time while being fully paid. We grant the right to work part-time to women with children, until their children reach the age of six. Previously, most of the women who faced the dilemma of work or childcare usually went for taking care of their children. Now, they can do both simultaneously, freeing them of this obligatory and difficult decision.
Women's labor force participation rate was around 23 percent when the AK Party first came to power in 2002. Now, it has increased to 31.5 percent. On the other hand the women's employment rate increased from 21 percent to 27.5 percent. Our aim is to increase the labor force participation rate to 34.5 percent and the employment rate to 30 percent by the end of 2018. Our 2023 projection is to increase the women's labor force participation up to 41 percent.
DS: Statistically speaking, domestic violence in Turkey is above the average of European countries. What is your ministry doing to discourage domestic violence?
As the government, we have a zero tolerance policy towards domestic violence. We are working on social awareness and education programs, providing protective services to the victims, and increased interinstitutional cooperation and coordination. We have taken the fight against domestic violence to another level with the enactment of Law 6284 Protection of Family and Prevention of Domestic Violence Against Women.
The Prevention and Tracking of Violence Centers (ŞÖNİM), which aim to investigate the causes and outcomes of domestic violence, were introduced in 49 cities as of September 2016. We are aiming to increase the numbers of these centers so that they will cover the whole of Turkey.
Currently there are a total of 137 women's hostels able to shelter 3,443 women, 101 of which are directly administered by our ministry, while the rest are run by local governments and NGOs.
Moreover, we have 25 First Admission Units where women who were subjected to domestic violence are received. We investigate their economic, psycho-social conditions in these centers.
We will continue to work on domestic violence until we can eliminate it completely. We will resolve this issue with education, hard work and patience. In this context, we are providing education on gender equality and domestic violence to public personnel and university students to create awareness and transform the mentality.
DS: What kind of programs does your ministry implement to provide social aid to Syrian refugees and to integrate them into society?
Turkey is currently hosting three million Syrian refugees. A majority of these refugees are residing in our cities. I would like to stress that we have always treated them with dignity and as if they were our own citizens. We have been doing whatever we can without expecting anything in return. Turkey did not disregard the plight of the Syrian people and took them in with open arms.
Our ministry has developed the Social Integration Aid Program with the cooperation of European Civil Protection and Humanitarian Aid Operations (ECHO) and the Turkish Red Crescent. With this program, we are providing aid of TL 100 for each of the refugees, aiming to reach out to one million refugees. Our role as a ministry is to investigate whether they are eligible to aid and to monitor the process of their admissions through our institutions which are present in every district in every city. We have started the pilot of this program in Ankara in Oct. 20, 2016 and expect to spread it to include the whole of Turkey.
DS: A parliamentary commission was established last year to investigate the increasing divorce rates. What is your ministry doing about the divorce rates?
We believe family is of the utmost importance, as it is the very basis of social life and where social issues can be resolved. The solidarity and effort in the family to resolve issues is as important for society, as it is for the individual. Moreover, society is one of the building blocks of civilization, while it is the cradle of love, compassion, justice and unity. Our historical continuance depends on these values.
As a countermeasure for divorce, we are providing education to people who are preparing to get married. Until today, 456,000 people have been educated by the Premarital Education Program, while 539,000 were educated by Family Education Program. On the other hand, our ministry provides consultation before, during and after divorce. Up until the day, we have provided counsel to 8,000 couples. In brief, we are trying to consolidate the institution of family by directly addressing divorce.