22-year-old cerebral palsy patient Gülşah Yağmur Yazıcı can't wait to see Erdoğan after telephone callhttps://t.co/NxBvmp9esg pic.twitter.com/zPkPHjsNIX

— DAILY SABAH (@DailySabah) December 9, 2016
A 22-year-old cerebral palsy patient from Turkey's northwestern Kocaeli province is now counting her days to meet President Recep Tayyip Erdoğan following a heart-warming phone call.
Gülşah Yağmur Yazıcı, who has suffered from cerebral palsy since she was born, first reached out to Erdoğan by sharing a charcoal drawing of the president in a tweet that said "That is all what a disabled person is capable of. I hope my president will see my picture too. I love you very much."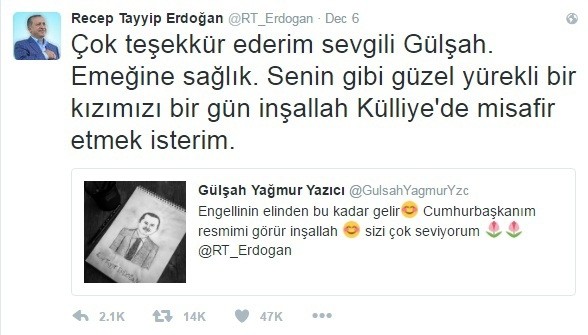 Yazıcı also mentioned Erdoğan's official account, where the president replied "Thank you very much dear Gülşah. I praise your effort. I would like to host a daughter of ours with such a beautiful heart at the Presidential Complex."
Erdoğan then called Yazıcı and her mother Sebahat Yazıcı on the phone and spoke to them for a while.
Speaking to Anadolu Agency, mother Yazıcı said that Gülşah is very happy and proud for speaking to President Erdoğan. "Gülşah decided to draw the picture of our president in 2 to 3 days. The day when we were called, she shared it on Twitter after drawing it in a couple of hours. She woke us up all of a sudden when we were sleeping," Yazıcı said.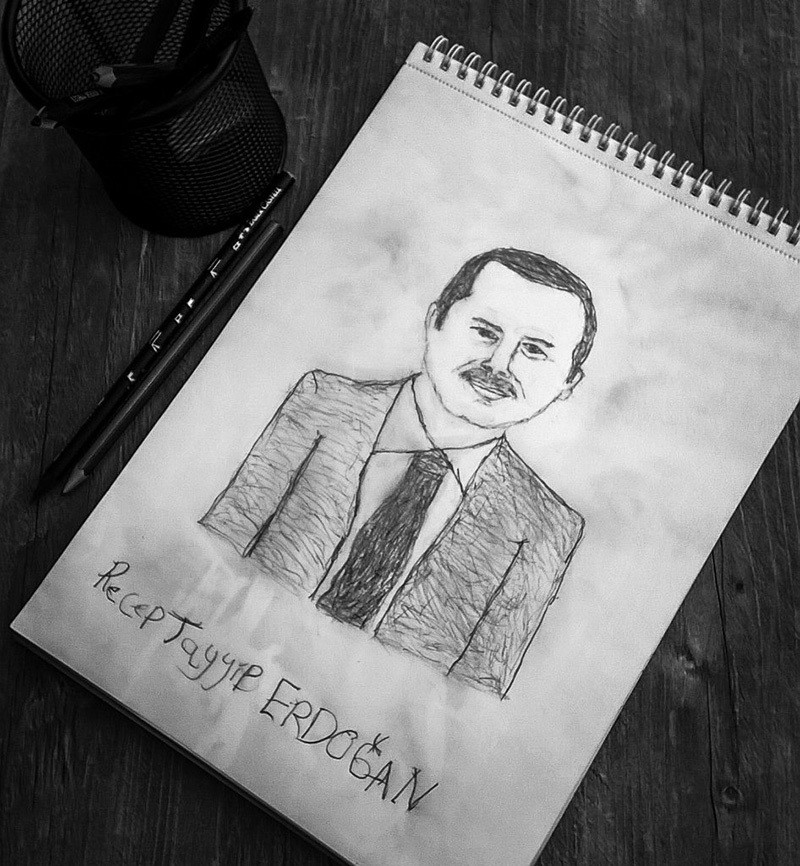 Yazıcı said that they were twice as happy as the call took place during the week for people with disabilities. Gülşah can't wait to go to the Presidential Complex and see Erdoğan, Yazıcı said, noting that she may surprise the president with another drawing.
She also said that Gülşah wasn't able to walk until she was five years old, and she started going to school at the age of 12 after a long period of treatment.
Gülşah completed elementary and secondary schools with letters of appreciation each year, Yazıcı said, noting that the started drawing pictures at the age of four and charcoal drawings after finishing secondary school.
22-year-old also obtained a high school diploma from home schooling, and now she spends her time mainly by reading, drawing and following up social media.
Gülşah's father has been receiving treatment for cirrhosis for the last five years.