Russian Ambassador to Ankara Andrey Karlov was killed on Monday following an attack by an unidentified gunman during the opening of an art exhibition in the Turkish capital.
The assailant was 'killed' during an operation by special forces at the scene, the Contemporary Art Gallery in Ankara's central Çankaya district.
Karlov was taken to hospital immediately after being shot at least eight times, several other people were also wounded in the attack.

President Recep Tayyip Erdoğan called his Russian counterpart Vladimir Putin and briefed him about the fatal shooting of Karlov, Turkish president's spokesperson said.
Russian officials initially said that the attack was carried out by a radical extremist. The Russian Foreign Ministry spokesperson said following the death of Karlov that the country considers the attack as a "terrorist act."
The assassination is though to be a provocative terror attack which was committed by a newly graduate off-duty policeman as Turkish security officials identified the attacker as Mert Altıntaş, who had graduated from İzmir Rüştü Ünsal Police Academy in 2014.

"When the ambassador was delivering a speech, a tall man wearing a suit fired into the air and then took aim at the ambassador," a witness said. "He said something about 'Aleppo' and 'revenge'."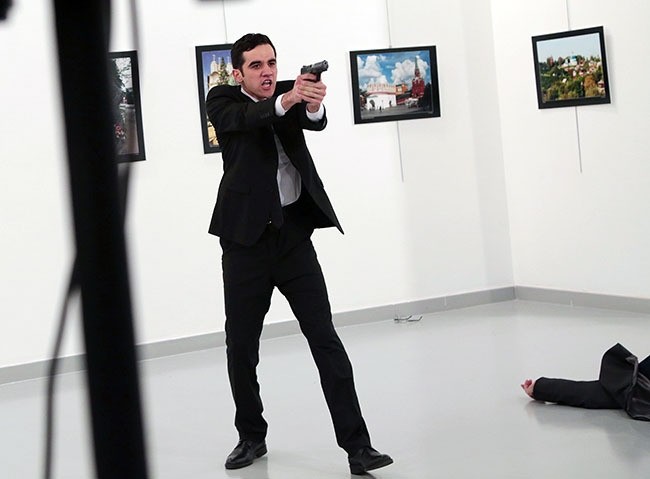 Photographers captured the man in a black suit holding a pistol, standing close to a podium in the gallery, with pictures hung on the walls. Four people, including the dead body of the ambassador, were seen laying on the floor.

Russian Foreign Ministry spokeswoman Maria Zakharova said in a televised statement that the ministry would soon comment on "the attack on the Russian ambassador in Turkey."