Turkish social media users and officials condemned Western media outlets for falsely reporting that the ACT Airlines plane, which crashed in Kyrgyzstan early Monday belongs to Turkey's flagship carrier Turkish Airlines.
Foreign outlets, including Reuters, French Press Agency and BBC World falsely reported that the crashed aircraft was a Turkish Airlines cargo jet.
Justice and Development (AK Party) Party lawmaker and head of the Turkish delegation for the Parliamentary Assembly of the Council of Europe (PACE) Talip Küçükcan criticized BBC World for their false report, urging the BBC to apologize for the mistake.
"The Turkish Airlines is a global and reliable brand and has a high economic value and a strong image abroad" Küçükcan said, adding that the BBC attempts to ruin the sense of trust people have in Turkish Airlines.

The Turkish Airlines released a statement shortly after the incident, saying that neither the aircraft, nor the crew are members of the Turkish Airlines.
"A cargo flight with TC-MCL registration number, operated by ACT Airlines, departed from Hong Kong International Airport (HKG) to Bishkek Manas International Airport (FRU) had an accident near Bishkek at around 01:40 UTC" a statement released by the office of Yahya Üstün, the SVP Media Relations at Turkish Airlines said.
BBC World initially reported that at least 16 people were killed after a Turkish Airlines cargo plane crashed near Kyrgyz capital, Bishkek: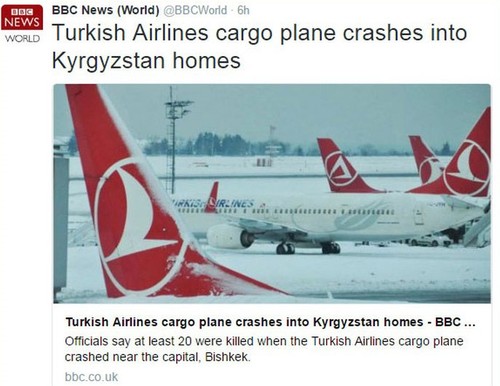 BBC World removed the tweet and corrected the article after reaction from Twitter users. However, a similar tweet still remains in the BBC Breaking News Twitter page: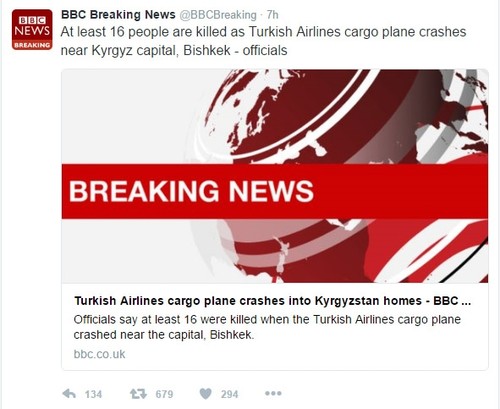 Social media users stormed to BBC's Twitter account and urged the channel to correct their mistake and remove the tweet falsely claiming it was a Turkish Airlines aircraft.
Many of them accused the BBC of manipulating reports, urged the company to issue an apology and stop spreading 'false news'.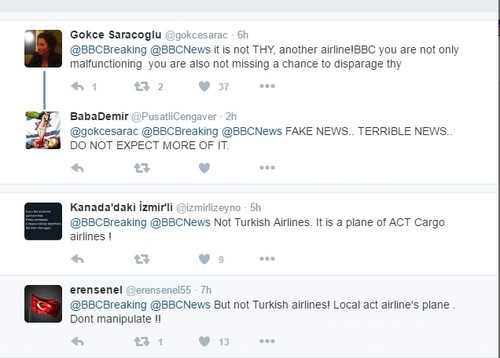 Reuters was one of the first sources to claim that the plane belonged to the Turkish Airlines, but later updated its report to note that the aircraft belonged to ACT Airlines.
The French Press Agency also corrected its report around 11:45 am (local time) and blamed Kyrgyz authorities for earlier reports saying the aircraft belonged to Turkish Airlines: "Kyrgyz authorities earlier on Monday had stated that the aircraft belonged to Turkish Airlines, a claim the company denied" AFP said.
At least 37 people, including six children were killed when a cargo plane belonging to ACT Airlines crashed as it was attempting to land in poor visibility near Kyrgyzstan's Manas Airport early Monday.
Turkish ministry of transport, maritime affairs and communication said Monday in a statement that two experts will be sent to the Kyrgyzstan in order to investigate the crash.