Hamdu Sena Bilgin, an 11-year-old girl from a village in northern Turkey warmed the hearts of people, after photos of her and her dog, carrying a goat and its newborn kid in backpacks under heavy snow, surfaced on social media.
Bilgin was herding goats from her father's farm in the snowy mountains of Yağcılar village in Turkey's Rize, when one of the nanny goats gave birth in the freezing cold. As she was putting the nanny goat in her backpack and the kid to a smaller backpack, tied to the back of her dog, Bilgin's elder brother snapped their pictures and uploaded it on social media. The photos went viral very quickly, as users praised the "heartwarming" photo, showing the unbreakable bonds between humans and animals portrayed in the way Bilgin cared for her animals.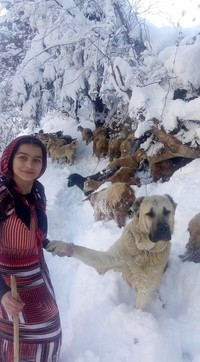 As her photos gained popularity, journalists sought to interview Bilgin, but her village was inaccessible due to heavy snowfall. As more people tried to reach the village to visit her, local authorities sped up work to clear the roads.
Speaking to reporters on Friday, the girl, posing with her dog "Tomi," told the story of the photos.
"I was outside with my brother to herd the goats and it suddenly started snowing. At the same time, one of our goats started giving birth. We decided to put the goat in my backpack and placed her kid inside another one and tied it to Tomi and took them to their shelters in our farm," she said.
Atilla Bilgin, her father, said her daughter has long been an animal lover and he was surprised that the photo has gone viral.
"I found out about it two days after everyone started talking about it," he said.
Hamdu Sena Bilgin said it was "a great feeling" to spend time with and take care of animals. She called on everyone to "love them." She said she was happy with the surging interest on her photo and said she received "lots" of phone calls from many relatives living out of the village, as they congratulated her for what she had done for the goat and her kid.