Turkish police have recovered a painting that is claimed to be a work of Spanish artist Pablo Picasso on Thursday and detained 5 people, including a former police chief, who tried to sell it in the northeastern province of Tekirdağ.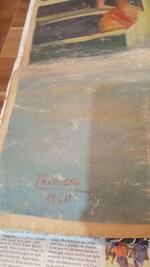 Security officials from the organized crime and anti-smuggling bureau tracked down four suspects after receiving intelligence that the group was trying to sell the painting.
After finding an oil painting that looked like a Picasso, the police detained the suspects and the painting was referred to the Tekirdağ Museum Directorate to be examined for its authenticity.
Police did not say when and where the artwork was stolen.
Turkish police have recovered paintings in similar operations in the past which turned out to be forgeries.