A Syrian child with a heart of gold in Turkey's southeastern Kilis province near the border came to the aid of a wounded stray dog lying on the road after being hit by a vehicle and refused to leave it until the arrival of veterinary assistance.
Eight-year-old Husain al-Hassan reportedly saw the wounded canine near Öncüpınar district as he was passing by and immediately ran to his house to bring a blanket for the shaking dog, despite the fact that his family had heating problems in their house.
Little Husain then asked those walking on the street to call for assistance and waited beside the dog until it arrived.
Kilis Municipality Veterinary Directorate teams immediately arrived at the scene and brought the wounded canine to a veterinary hospital.
With a population of 129,000, Kilis is only a few miles from the Syrian border and is home to about 120,000 Syrian refugees.
According to a statement by Kilis Municipality, the dog succumbed to its wounds due to internal hemorrhaging despite all efforts to save it.
Hearing the news, Husain said he was extremely sad and urged drivers to avoid speeding as it results in such accidents.
Later on, Deputy Mayor Cuma Özdemir reportedly visited the Syrian boy at his house and thanked him for his efforts. Little Husain and his family also received gifts as a token of appreciation.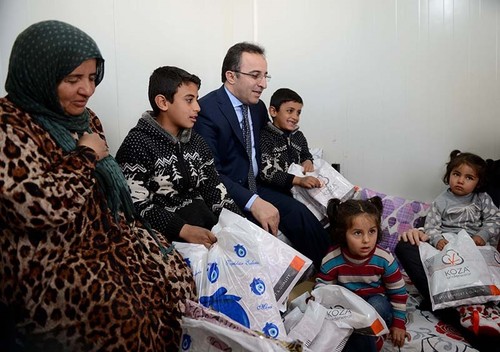 Turkey hosts around four million Syrian refugees, the largest amount in the world.
Since the uprising against the Assad regime in Syria evolved into all-out civil war, Turkey has embraced an open-door policy for those fleeing the brutal conflict and has accommodated a small number of refugees in tent camps located across the border.