The Turkish Cooperation and Coordination Agency (TİKA), the leading state-run agency tasked with international development aid, is undertaking Turkey's international projects catered to women in conflict zones and women suffering from domestic violence and other issues.
TİKA, which gained international fame in recent years with its projects in a wide range of sectors from education, health and infrastructure aimed at disadvantaged communities and the restoration of cultural landmarks, prioritizes women in its work spanning the globe, from Afghanistan to Bosnia Herzegovina, from Somalia to Iraq.
Vocational training and life-long learning courses provided by TİKA offer women a way to have economic means especially in impoverished countries and boost workforce capacity.
In Afghanistan, where years of Taliban rule and deteriorated security in recent years have made women more vulnerable than ever, TİKA provides opportunities for women to have economic independence. TİKA courses in Jowzjan in northern Afghanistan offer free courses on computer literacy, sewing and other branches to 90 women.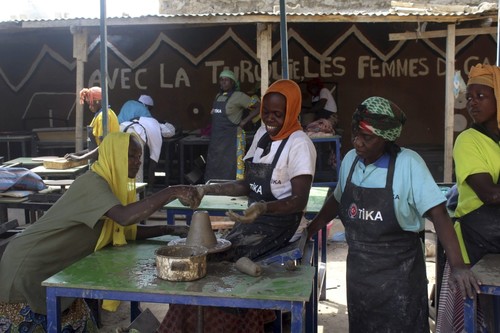 TİKA thought it would be appropriate to establish a pottery workshop in Chad's capital N'Djamena to provide job opportunities for women, where they can apply their artistic skills.
In Albania, Cameroon and Montenegro, TİKA has furnished shelters for domestic violence victims. Also in Cameroon, TİKA funds vocational training courses for women. In Iraq's Kirkuk, the agency has funded a textile workshop for women in the Iraqi Turkmen community run by a local nongovernmental organization. In Madagascar, TİKA has supplied equipment to a woman's vocational training center while it has donated medical equipment and sewing machines to a Myanmar foundation that helps women.
For women's health, TİKA furnished a health center catering to women and children in Kenya's Ijara and renovated a maternity hospital and a women's health center in Kyrgyzstan.
In Niger's Niamey, TİKA currently builds a center for women and child patients. The center, being built in an area of 5,548 square meters, will have 51 beds, clinics and intensive care units. Its primary purpose will be addressing the problems of women suffering from obstetric fistula, a medical condition common in mothers in underage marriages and those giving birth at home, without the attendance of healthcare professionals.
In Senegal's Pikine, the TİKA-built Mother-Child Care Center, a medical center catering to a population of 350,000 and the first health clinic offering vaccination in the area.
TİKA has also furnished a maternity hospital, provided medical equipment and funded services to the place in Somalia's Mogadishu where infant mortality rates are exceptionally high.
Previously a little-known state apparatus founded with the purpose of helping former Soviet republics after the collapse of the Soviet Union, the state-run Turkish Cooperation and Coordination Agency (TİKA) has re-branded itself in the past decade as a major source for Turkey's international clout by reaching out to people in need across the globe. TİKA is active in 50 countries where it has offices but has conducted projects in 140 countries, especially after the revival of its work under the Justice and Development Party (AK Party), which has been in power since 2002.