Turkey, one of the main donors to the Palestinian territories and the most vocal defender of the rights of Palestinians who have long suffered from an Israeli blockade, is extending a helping hand to the region through the Turkish Cooperation and Coordination Agency (TİKA). The state-run development agency is behind a string of projects ranging from hospitals, housing units, schools to an olive oil production facility for struggling farmers. In the past 10 years, the Palestinian territories, particularly the Gaza Strip, have seen increasing development thanks to hundreds of humanitarian projects by the agency, which provides aid to disadvantaged communities across the world.
TİKA, which from a little-known state apparatus has turned into a symbol of Turkey's humanitarian outreach, is behind a 180-bed modern hospital in Gaza and a housing complex with 320 apartment flats in the city, which has suffered from Israeli airstrikes in the past years. The state-run agency also runs six schools which thousands of Palestinian students attend. Apart from their usual humanitarian projects, TİKA recently gave the opportunity to Palestinian farmers to make quality produce with a modern olive oil extraction facility catering to farmers.
The agency also undertakes restoration work of Ottoman-era structures in the Palestinian territories, which were part of the now-defunct empire.
Since setting up an office in the region in 2005, the agency has launched nearly 400 projects, including both small-scale humanitarian aid and sustainable aid such as housing units. From aid for education, health assistance and empowerment of the local economy, restoring historical buildings to help in the improvement of civic society, the agency represents Turkey's humanitarian influence in the Palestinian territories.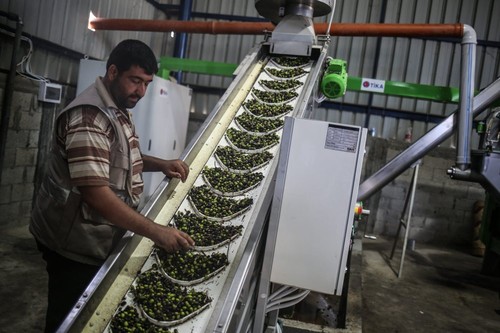 Benefiting from a shared history with the Palestinians, Turkey maintains good ties both with the Palestinian Authority based in Ramallah and authorities in Hamas-led Gaza. The projects undertaken encompass the West Bank, east Jerusalem and the Gaza Strip. So far, 195 projects were undertaken in the West Bank while 71 projects were carried out in east Jerusalem, home to an Israeli Arab population, and 123 others in the Gaza Strip. They cover everything from aid to nongovernmental organizations to local projects to empower women, social events and aid to Palestinian youth involved in sports.
The Palestine-Turkey Friendship Hospital that will cost about $62 million is a symbol of TİKA's aid to the Gaza Strip. The hospital, scheduled to open later this year, is touted as the largest and most modern hospital in the entire Palestinian territory, and will have 10 blocks containing clinics. Like all other sectors in the region, healthcare was significantly affected due to the blockade, which makes importing medical equipment difficult. Palestinian patients deprived of modern healthcare services also faced obstacles while seeking medical treatment abroad due to travel restrictions. In 2014, hundreds of Palestinians injured in Israeli airstrikes on Gaza were allowed to travel abroad for treatment, and Turkey has hosted 123 victims for treatment. TİKA has already built a hospital in the region, but it is smaller than the Friendship Hospital. A 30-bed hospital in the West Bank was opened five years ago.
The aid agency also seeks to accommodate Palestinians who have lost their homes in Israeli airstrikes. A total of 320 apartment flats under construction, which will cost some $13 million, will be handed over to families soon. Housing units are being built in an area of 20,000 square meters in a Gaza village.
TİKA also plans to build a school in every Palestinian town. So far, six schools have been built, while existing schools were renovated and furnished with computer labs. Students also benefit from scholarships, and TİKA also funds Turkish studies departments at Palestinian universities. Al-Khalil Turkish School, located in the eponymous town in the West Bank, is touted as the most modern school in the city and hosts 550 students. TİKA also built Nuri Pakdil Girls' School, named after a Turkish scholar, in Nablus, which is the second largest city in the Palestinian territories.
An olive oil plant built by TİKA looks to help further economic self-sufficiency for Palestinians facing the blockade.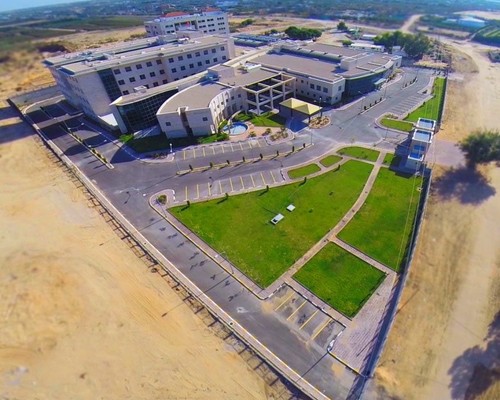 The plant opened last year in Abasan al-Kabira, a small town that depends on agriculture in Khan Younis in the Gaza Strip, and is the latest instance of income-generating projects by Turkey for Palestinians. The TİKA-built plant, which will be run by the local municipality, aims to improve olive oil processing in the region, a hub of olive growers in the southern Gaza Strip. The plant saves farmers time in the olive oil extraction process, as well as helps them to earn more in olive oil sales.
Since 2007, the Gaza Strip has suffered a joint Israeli-Egyptian blockade that has deprived the enclave's roughly 1.9 million inhabitants of their most basic needs, especially food, fuel, medicine and construction supplies. The Gaza Strip largely depends on foreign aid as the economy has stalled under the Israeli blockade, and apart from small industries, industrialization is almost non-existent. Agriculture in the region, where strawberries, olives, citrus, dates and several other species are grown, is viewed as a key to reviving the economy. TİKA has also donated tractors and farming equipment to Palestinians in a string of humanitarian aid projects.