On International Museum Day Thursday, Turkey opened the first stage of what the media touted as the country's largest museum complex.
The Archaeology Museum, which covers some 12,500 square meters of a 68,400-square-meter venue, is housed inside a now defunct 100-year-old textile factory in southern Turkey's Adana.
Cabinet ministers and dignitaries attended the opening ceremony for the museum, which will become a neighbor to a City Museum, Museum of Agriculture, Museum of Industry, Museum of Ethnography, Children's Museum and Mosaic Museum, all planned to be opened in the coming years.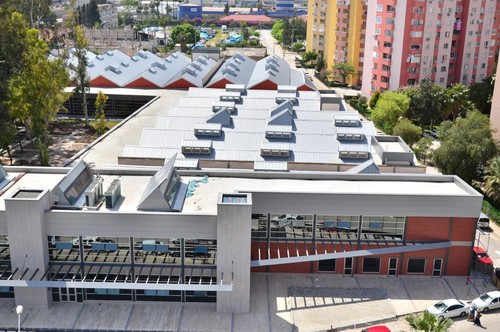 Though Adana is not exactly known for its arts or culture scene, it has historically been home to several civilizations and is one of the oldest human settlements within the borders of modern Turkey.
In the archaeology museum, artifacts dating back 18,000 years, statues, jewelry, royal seals and earthenware will be on display. Officials claimed that the museum hosts more than 2,000 artifacts.
Conversion of the Milli Mensucat textile factory, established in 1907 in the province's Seyhan district, into a museum complex was started about three years ago by the Culture and Tourism Ministry.
Officials say once completed it would be among the largest museum complexes in the Middle East. The museum sheds light on the history of Turkey, which before the establishment of the Ottoman Empire in the early 14th century, hosted a diverse selection of civilizations, from the Hittites to Greeks.
Adana is primarily known as part of the Cilicia region, alternately ruled by Romans, later Byzantines, and Armenians up until the time of Muslim rule.
The Archaeology Museum offers information on the prehistoric period to recent eras through dioramas, well-preserved artifacts, and texts. Artifacts include statues, sarcophagi, stelae, altars, busts, glass and clay pots and utensils, statuettes, seals, as well as gold and bronze jewelry from the Hittite, Assyrian, Hellenic, Roman, Byzantine, Seljuk and Ottoman eras.
Among some of the highlights are a stone statue of Hittite god of thunder Tarhunt, unearthed in a district of Adana in 1997, stelae with Anatolian hieroglyphs, and a Roman-era sarcophagus dedicated to Achilles.
Speaking at the opening ceremony, Culture and Tourism Minister Nabi Avcı said the museum complex will be "a learning space" for thousands of years of knowledge.
"Adana hosted civilizations of the Neolithic era, Hittites, and Ottomans among many others. The city and broader region is a big museum itself," he said.