The increasing number of hotels, lodgings and businesses in Uzungöl, the world famous tourist center in Çaykara district of Turkey's northeastern Trabzon province, threaten the natural beauty of the region.

The problem of "architectural pollution" in Uzungöl has become a major concern in the region, which attracts thousands local and foreign of tourists every year.
A look at the current and old view of the area shows remarkable differences, with concrete buildings replacing the green trees around the beautiful lake.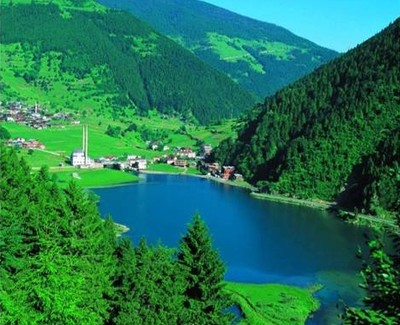 Reports note that the difference has not only been caused by rapid and unplanned increase of construction in the region but also by the inhabitants of the area, who transformed and expanded their houses into pensions and inns. This was also caused by tourists pouring in from the Gulf countries, including Saudi Arabia, who increased the demand for unplanned construction.

Meanwhile, a number of trees planted to enhance the look of the stone walls built around Uzungöl have started to grow.
Uzungöl was declared as a 'natural park' in 1989, and is home to a variety of flora and wildlife.

Currently, there is a project initiated by Interior Minister Süleyman Soylu to enhance lighting and illumination throughout Uzungöl.

In 2004, lawsuits were filed against some 800 people for constructing houses or transforming houses into pensions or inns in Uzungöl, which was previously declared "Specially Protected Environmental Zone." The legal process against the defendants, facing two to five years in prison for violating the law on construction and zoning, was terminated after a general amnesty issued after July 15 coup attempt, which reduced convicts' sentences up to five years except for convictions on terror, sexual assault and crimes against minors.