As traditional as visiting family elders, the traffic nightmare at the beginning and end of the bayram holidays was repeated on Friday and early Saturday, with traffic grinding to a halt at many major intersections and highways. As hundreds of thousands tried to escape the large cities across the country to enjoy a few days under the sun at the conclusion of a month of fasting, many were greeted to traffic congestion that has become a perennial bayram problem.
Throughout the Ramadan Bayram, last day of which is Tuesday, televisions are sure to show deadly collisions that accompany the sudden increase in traffic on major highways, hourly adding to the death toll that sometimes suns well over a hundred.
From President Recep Tayyip Erdoğan down, almost all officials who issued special bayram greetings warned drivers to beware of reckless driving and called on all to abide by the rules. Erdoğan asked the driver to be careful not to blemish a joyful occasion such as bayram with pain.
Highways leading to and from Istanbul were especially congested on late Friday and throughout Saturday. Drivers on the TEM and D-100 highways were forced to stop and wait hours for the traffic to clear. Several accidents also prevented traffic from flowing properly.
The Mount Bolu section of TEM was said to be especially congested, with reports indicating that in many places the traffic ground to a halt on Saturday, with cars advancing at speeds averaging at 20 kilometers per hour.
JUST A BIT OF SPORTS
According to Doğan news agency, the traffic police in Tokat along the D100 highway were stopping cars and asking them to do a bit of exercise to clear their minds.
Drivers were given some candy and cologne before directed to the exercise machines on the side of the road. Tokat Police Chief Göksel Toplaoğlu said they aimed to allow drivers to clear their minds and do a bit of exercise. "We also get the opportunity for some conversation, asking them to drive carefully. What we are doing is just to minimize the number of accidents."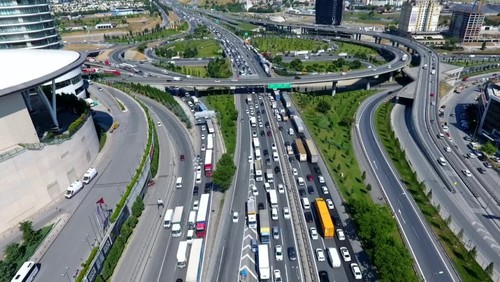 He said every Police Department officer was working during bayram to minimize casualties from traffic collisions, both in the city and on major highways traversing the province. "Especially on the eve of bayrams, the number of fatal accidents increases. Our roads and highways are better than in the past, but this has encouraged drivers to speed. Drivers have a limited capacity to drive. Especially on long-haul journeys, we allow drivers to get a breather. Some drivers don't notice it, but many are tired from long hours of driving, weakening their reflexes."
One driver on the exercise machine, Adem Ateş, said he was coming from Istanbul and welcomed the policy. "There was serious congestion as I left Istanbul. It was definitely tiring. This exercise is good for the rest of the trip."
Erdem Korkmaz who was travelling from Ankara to Gümüşhane welcomed the chance to exercise. "I hope this becomes the practice on all highways. I was able to refresh up thanks to this exercise."
KILIÇDAROĞLU'S JOURNEY
Meanwhile, main opposition Republican People's Party (CHP) Chairman Kemal Kılıçdaroğlu is continuing with his "justice" march, from Ankara to Istanbul. On Saturday, the 10th day of the march, Kılıçdaroğlu took off from the Köroğlu facilities near Bolu. The whole journey is expected to take about 25 days.
Kılıçdaroğlu and his entourage are clogging one lane of the D100 highway during their march, which is expected to worsen the congestion all along the highway during bayram.

LONG LINES AT CUSTOMS GATES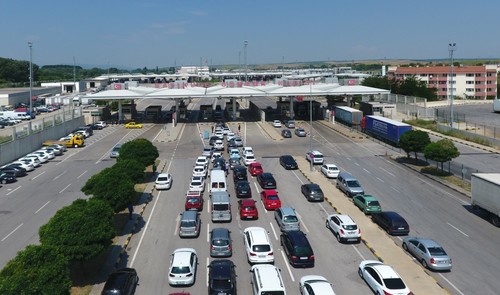 Those who wanted to spend a few days abroad during the Ramadan holiday, also known as Eid al-Fitr, encountered serious congestion at customs gates with Bulgaria and Greece. Those who wanted to travel to Greece via the Pazarkule Border Gate had to battle a line that was 2 kilometers long on early Saturday.
With the summer heat, drivers started to complain, demanding customs officials to take special precautions during the bayram holidays when there is a dramatic rise in the number of people traveling.
It was even worse for those traveling to Bulgaria via the Kapıkule Border Gate. The car line was 3 kilometers long while the line for trucks were 17 kilometers. It was a little better at the other border gate to Bulgaria at Hamzabeyli, with the line for trucks at 8 kilometers. Officials blamed the Bulgarian side for the congestion.

ANTALYA'S POPULATION DOUBLES DURING BAYRAM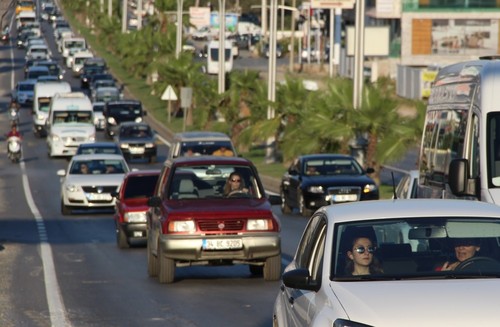 Home to many of Turkey's top tourism resorts, the province of Antalya sees such a huge influx of visitors during the bayrams that its population doubles only for a few days.
While millions of local and foreign tourists visit Antalya during the year, it is the bayrams, Ramadan and Kurban, that really see a soaring number of visitors from across Turkey, especially from Istanbul, Ankara, İzmir and Bursa. While normally the population of the province stays around 2.3 million, during the next few days it is expected to climb well above 4 million.
The temperature hit the high 30s on Saturday, with many flocking to the famous Konyaaltı beach. Temperatures are expected to hover between 33 to 39 degrees Celsius during the Ramadan holiday, which is between Sunday and Tuesday.
Hale Genç from Istanbul said she would spend Saturday at Konyaaltı beach, before visiting her relatives in Antalya on the first day of bayram. "Then it's back to the beach for me."
Another province home to many resort towns, Muğla, saw significant congestion on its roads. As traffic congestion moves from the huge cities to resort towns, Muğla, home to Marmaris, Bodrum, Dalyan, Dalaman and Fethiye, saw heavy police presence on the roads to handle the sudden inundation.
Muğla Police announced that it would have close to 500 officers on the roads around the clock throughout bayram.