Two workers in a rural area of Yüksekova district in Hakkari province were killed Wednesday by a PKK terrorist while working on energy transmission lines, bringing the number of workers killed in recent PKK attacks to five. The attack also became the latest example of the chain of PKK attacks targeting civilians, particularly in southeastern Turkey.
The incident occurred in a rural part of Yüksekova yesterday afternoon. The men were attacked with long-barrel weapons and three other workers were wounded, one of them critically, according to reports. The injured workers were flown to local hospitals by helicopter for treatment. A military operation, backed by air support, was launched in the region to find the assailants after the incident.
This is the second PKK attack targeting construction workers recently. On Aug. 28, three workers were killed when terrorists attacked them at a road construction site in southeastern Turkey. The workers, identified as Kadri Oslu, Ramazan Yakut and Cangir Yılmaz, became the latest civilian casualties of the PKK, which indiscriminately targets teachers, local politicians and villagers in the region.
The PKK has repeatedly targeted civilians in eastern and southeastern provinces in its attacks, including opposition Kurdish voices, politicians, local civil servants, teachers and laborers who work in development projects.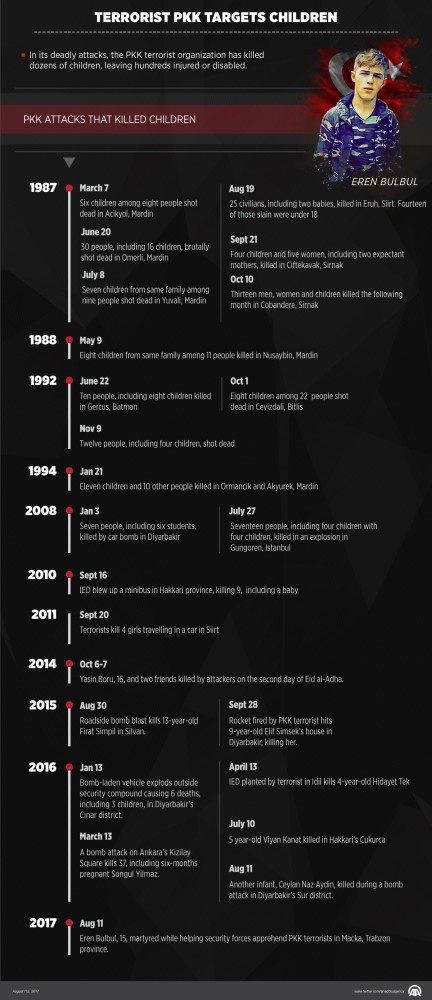 Last month, a series of attacks against civilians were perpetrated by the terror group in different regions of Turkey.
Nurettin Altun, a village headman who was kidnapped by the PKK, was later found dead in the southeastern city of Hakkari.
Eren Bülbül, 15, died from gunshot wounds sustained while he was helping gendarmes track PKK members nearby his house in Maçka, a town near the Black Sea city of Trabzon.
A villager, Sami Çiftçi, was also kidnapped from his home in Hakkari last month. PKK terrorists took him far away from his home and shot him dead.
A shepherd, Tayyip Fidan, who was the father of two village headman, was also kidnapped by PKK members while taking his animals out to pasture. He was shot and left in a remote part of the city.
The PKK also killed two teachers in June – Aybüke Yalçın in Batman province and Necmettin Yılmaz in Tunceli province, in addition to two district-level politicians from the ruling Justice and Development Party (AK Party) earlier in July as part of its campaign of assassinations targeting Kurdish political figures who refuse to adhere to its policies in the region.
PKK positions in southeast hit in military operation
Security forces have killed five PKK terrorists in the southeastern province of Şırnak, the local governor's office said yesterday.
In an operation backed by aircraft, security forces targeted a group of PKK terrorists plotting to attack groups in the Behrancı Valley, located northeast of the provincial capital, the statement said.
Two of the terrorists killed were women.
Later, the Interior Ministry announced the deaths of another 10 terrorists in counterterror operations across the country.
In a statement, the Ministry said a total of 15 terrorists, including one Daesh member, were killed by security forces on Tuesday and Wednesday.
In Alanici, a mountain village in the eastern province of Mus, four terrorists were killed and a wounded terrorist was captured on Wednesday in a counterterror operation that is still ongoing.
Five others were killed on the Şahgül Plateau in the district of Diyadin in neighboring Ağrı province.
The PKK - listed as a terrorist organization by Turkey, the U.S. and the EU - resumed its armed campaign against Turkey in July 2015. Since then, it has been responsible for the deaths of roughly 1,200 Turkish security personnel and civilians.