An orphanage built in the southern province of Hatay on the Syrian border is preparing 340 Syrian children who have lost both their fathers and mothers for a brighter future. The orphanage, built by Qatar's Foundation Sheikh Thani Ibn Abdullah for Humanitarian Services (RAF), Humanitarian Relief Foundation (İHH), the Family and Social Policies Ministry and the Orphans Foundation, was opened on May 18. Built in Hatay's Reyhanlı region, the facility includes accommodation, education sections in addition to medical and rehabilitation centers.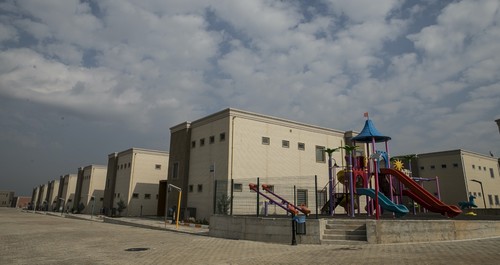 The 990-child-capacity orphanage consists of 55 villas, 35 of which are for boys and the rest for girls. Children and their carers live on the upper floor of the two-story villas while the lower floor includes a kitchen and dining room, a study, game room and toilets.
The compound also has three schools that will provide primary and secondary-level education, sports and meeting halls, guest lodging, a culture center, farms and even a zoo. Streets are named after Ottoman sultans and important leaders.
The İHH's press officer on Syrian affairs, Selim Tosun, said their focus was on making the children productive members of the society.
"There are 300 personnel helping these children. The number of personnel will increase in accordance with the number of orphans looked after," he said.
Anadolu agency also talked with children in Reyhanlı who have lost their fathers due to the civil war in Syria. Dua Hadded, 11, said her child was tortured to death in a regime prison in Syria. "I want the war to end. I want peace in my country. I don't want anyone else losing their fathers. I hope to return to my home one day and play a part in my country's future."