A pleasant scent welcomes the faithful and visitors as they enter a Protestant Church in Artuklu, a southeastern town. Municipality workers meticulously wipe clean every corner of the church while a smiling pastor watches. This is just a minor change for a town that is among the dozens of municipalities where new administrations were appointed by the state in the place of the PKK-affiliated mayors from the Peoples' Democratic Party (HDP) and the Democratic Regions Party (DBP).

Since last year, Turkey removed the elected administrations of 93 municipalities in the region for their links to the PKK terrorist group. The new administrations named "trustees" now seek to show locals that they can serve better than the mayors they elected, who are accused of diverting resources to the terrorist group. The PKK, which claims to fight for Kurdish self-rule, pursues a campaign of violence in the predominantly Kurdish region. A string of anti-terror operations in the past two years curbed its presence in the southeast where it draws recruits among disillusioned Kurds. Multiple investigations have revealed that a significant portion of state grants to the municipalities dominated by pro-PKK political parties were diverted to the terrorist group while basic services were denied to the public.
The trustees, mostly bureaucrats who serve as district governors in the region, are lauded by the public for numerous positive changes they brought to towns and cities. Long-neglected infrastructure was completely renewed, new roads and social facilities were built while green spaces were increased. Municipalities' debts to local businesses were paid while schools, public buildings et cetera damaged in terror attacks undergo renovation.
In Artuklu, a town of roughly 156,000 people, the change reflects itself in unprecedented cleaning services for mosques and churches. Some 1.5 tons of rosewater were brought in from Isparta, a western town known as the "rose capital" of Turkey specifically to be used in the cleaning of places of worship in the town.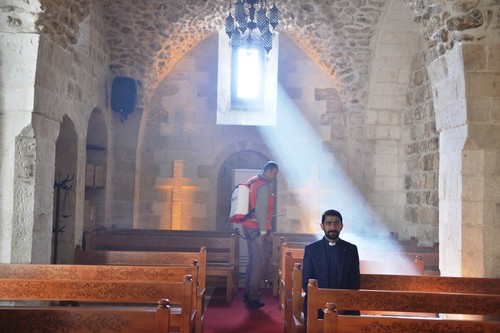 Şakir Öner Öztürk, the town's appointed mayor, says Artuklu is known for its multicultural and multilingual society with a mixed population of Turks, Kurds, Arabs and Assyrians, and Chaldean and Yazidi communities living together with Muslims. "Our municipality strives to reach out to people of all faiths and we clean their places of worship for a more pleasant experience for mosque and church goers," he tells Anadolu Agency (AA). "I am happy that the municipality funds once allocated to terrorists are now spent on such a service," he adds. Ahmet Acar, imam of Latifiye Mosque, says workers come every Friday ahead of noon prayers where a large congregation gathers for weekly prayers, pours rosewater in the mosque and cleans it. "The congregation is very pleased with this," he says.
The Protestant Church's pastor, Ender Peker, says Artuklu now "emits a pleasant odor of coexistence."
In Şırnak, another city run by trustees, the municipality gave locals what they yearned for: An enormous park. After repairing the city's infrastructure damaged by terrorism, the new administrators built an 83-acre park and recreational area complete with running tracks, playgrounds, football and basketball courts as well as a large pond in this landlocked city. Zeki Çelik is among the hundreds who flock to the park for a picnic with his family over the weekend. "We had no place to go for a weekend outing. With the new administration, we see what a municipality should really do. We have everything here, from sports grounds to picnic grounds," he tells AA.