A retired man living in Turkey's central Konya province distributes free soup made by his wife to over 150 people in front of a newly opened hospital, with the goal to warm people's hearts amid cold winter days.
55-year-old Lokman Yıldız and his wife serve free soup to 150 people in front of Dr. Ali Kemal Belviranlı Maternity and Children's Hospital in the morning, Anadolu Agency reported.
Disregarding people's negative remarks about how hard it would be to keep up with the idea of making and serving the soup to 150 people on a regular basis, and despite the fact that they make ends meet by a single retirement pension, the couple went ahead and got to work.
Each morning, the couple wakes up at 5 a.m. and spend around an hour and a half to prepare the soup and bring it in front of the hospital to serve it to the people.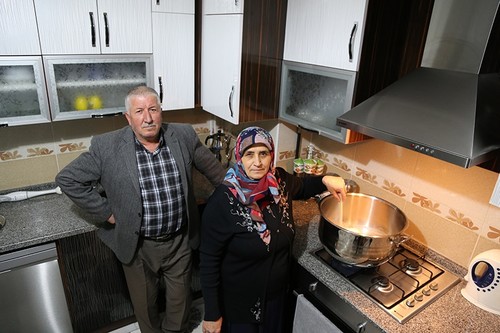 Lokman Yıldız and his wife Mrs. Yıldız preparing soup at their kitchen in Konya province (AA Photo)
They make three different kinds of soup for each day, and sometimes also serve warm milk.
Yıldız told Anadolu Agency that he and his wife do what they do for charity, and to put a smile on people's faces.
"Some people ask me why I give it out for free, while others say may God bless you," Yıldız said, adding that he actually wants to do it every day but he currently can't.
The charitable man also said that he serves cold lemonade in hot summer months and that some people call him the "lemonade man" in the summer and "the soup uncle" in winter months.
People who drink the soup served by Yıldız family express their appreciation and thank them for their generosity.