In March 2016, anti-terror operations in the southeastern city of Diyarbakır's Sur district came to an end as the region was cleared of PKK terrorists. However, although the city had its peace back, the damage from the conflict was quite significant with major demographic changes as buildings were destroyed with people forced to leave. Today, the city is set to rise from its ashes as reconstruction work continues with several plans for the terror-stricken people to have their homes back.
Environment and Urbanization Minister Mehmet Özhaseki, speaking on Friday, said: "Diyarbakır is at the crossroads."
"It will take a stand against terrorists from now on, and as it stands against terrorism, we [the government] will serve the city and turn it into an attraction point." Diyarkakır is a majority Kurdish city in the southeast of the country that has suffered significantly from PKK violence in the past. Speaking at a Turkuvaz Media Group event that was part of the city meetings in Diyarbakır, Özhaseki highlighted that if one points a gun to his or her own fellow citizens, then it is the duty of the government to stop it, referring to the anti-terror operation in the city.
Diyarbakır Bar Association Chairman Tahir Elçi was killed in an armed PKK attack in November 2015 after a press release in Sur, a city well-known for its historic features. Elçi was shot in the head during the armed clashes, two police officers were killed, and three journalists and one police officer were injured. A curfew was immediately declared after the incident along with counterterror operations, which lasted 103 days, killing 271 terrorists.
Founded in 1978 and fighting a bloody war against Turkey ever since, the PKK is listed as a terrorist organization by Turkey, the U.S. and the EU. Although there was a brief reconciliation period, the terrorist organization resumed its armed campaign in July 2015. It is responsible for the deaths of some 1,200 security personnel and civilians, including women and children.
However, despite the success of the operations, five neighborhoods in Sur were completely destroyed, and the residents were forced to flee, creating a group of terror-stricken people who suffered and demanded their homes back. So far, as a part of the Sur Action Plan, 6,000 homes were built for residents of the city who were also offered several other options to make the process more convenient for all parties.
"If you say I was born here, raised here and this was my father's property, so I want to rebuild my house here and live in a traditional house, then we can assist you and implement the project for you. We can pay you the value of your destroyed home so you can rebuild your home yourself," Özhaseki said, adding that all those traditional homes will be rebuilt no matter what; thus, no one should be concerned over the issue.
According to Özhaseki, the only problem so far is that they could not manage to take concrete steps to rebuild the traditional fabric of the region since a long bureaucratic process is required to rebuild historical buildings.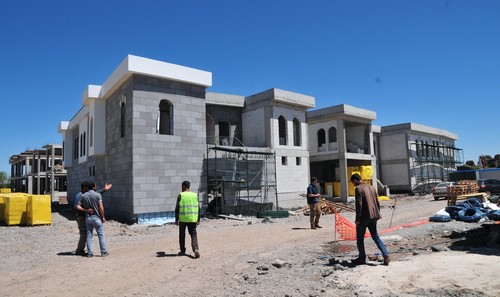 Although some major historical structures in the city such as the Grand Mosque (Ulu Cami) were restored successfully in accordance with historical sensitivities, those that saw the most damage from terrorist activities, like the quadruped minaret are still waiting to be restored. There are also a couple of historical churches waiting for construction work to come to an end to be able to welcome visitors again.
Özhaseki criticized former mayors of the city for the current problems the city faces, saying that the majority of the city's budget was transferred to PKK terrorists instead of being spent on the city itself."If those people [former mayors] of the city were well-meaning, if they loved their city and its residents, if they had the desire to serve those residents, Diyarbakır would have become a completely different place," he said, adding that Diyarbakır is like the capitol of southeastern Turkey as a trade and attraction center.
As reconstruction work continues, Diyarbakır is getting ready to be more than an attraction center. With its historical fabric and natural beauty, it is a strong candidate to become a top tourism destination. "[When the construction work is done], everyone would come to see and know Diyarbakır. They would not only visit historical places but also taste the local food. They would come to see the warmness of its people," Özhaseki said, indicating that from now on, the city should be known for tourism, not terrorism.