A man tried to save his brother who fell from the 12th floor of a building under construction in southern Turkey by catching him on the ground, rescuing him from certain death despite significant injuries to both.
The incident took place at a construction site in the Seyhan district of Adana province. Ali Faraşoğlu, 24, and his 20-year-old brother Yunus Emre, arrived at the site to construct the building's elevator.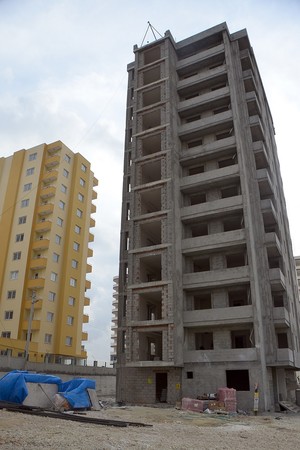 While Yunus Emre walked up to the 12th floor, Ali loaded their supplies on a crane for his brother to collect. As Yunus Emre was moving the supplies into the building, he lost his balance and began falling to the ground.
Immediately noticing his brother's fall, Ali opened his arms to try to catch Yunus Emre, who fell directly on top of him.
Yunus Emre was seriously injured in the incident, but likely saved from certain death. He was rushed to a nearby hospital and remains in the intensive care unit. Both of Ali's feet were broken by the catch, but he was discharged from the hospital after treatment.
An investigation was launched into the accident, and police detained the contractor of the project.