The world's largest baklava was served at an exclusive gastronomy summit, breaking a Guinness world record in the Turkish capital Ankara on Thursday.
A 515 kilograms (1,135 pounds) baklava was prepared by a team of baklava masters from around Turkey and was baked on a single tray in a special oven as part of Travelexpo's Third International Tourism Fair at the international convention hall ATO Congresium.
A Guinness official present through a live broadcast at the scene confirmed the record, Anadolu Agency reported.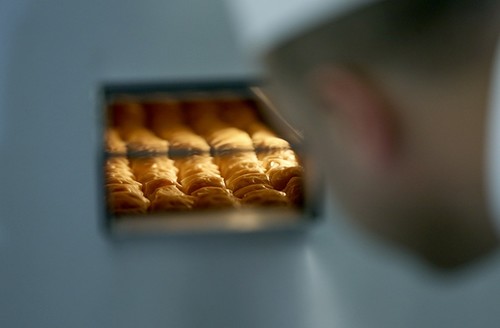 Mehmet Kanbur, the CEO of MADO, one of the largest ice cream chains in the country, which sponsored the record attempt, told AA that the baklava has been made after three months of preparation work.
He said they sought to promote baklava internationally and that the dessert weighed two times heavier than the previous record holder.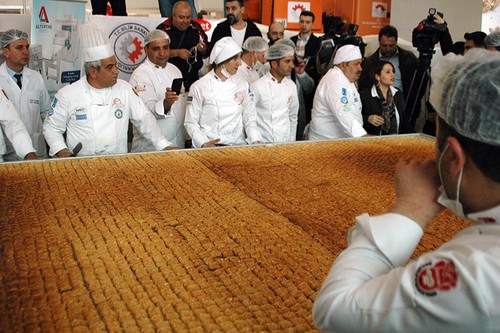 With around 11,800 slices, the record-breaking baklava was baked in a tray that is 2.5 meters in width and 7.5 meters in length.
For five hours, 18 chefs worked making the dessert, using 150 kilograms of butter and 80 kilograms of walnuts.
Made of 35 or more layers of thin dough brushed with butter and sugar syrup, the dessert, with numerous shapes, sizes and flavors, is wildly popular both in Turkey and around the world and is traditionally consumed on special days, from religious festivals to celebrations. Turks eat an average of 4.4 kilos of baklava per year, according to an association of baklava chefs.
The gastronomy summit in Ankara will be held until March 22 and is expected to offer conferences and workshops on Turkish cuisine.
Culture and Tourism Minister Numan Kurtulmuş, who spoke at the opening ceremony of the event, said that Turkey has tremendous potential and knowledge on food culture and can attract more tourists thanks to its rich cuisine.