A wheelchair-bound Palestinian trio of two brothers and their sister arrived in Ankara on Tuesday to receive prosthetic legs upon the instruction of Turkish Health Minister Ahmet Demircan.
Nine-year-old Soujoud al-Sharif, her eight-year-old brother Mohammad and one-year-old Anas from Gaza were unable to receive treatment due to the lack of health resources in the enclave under the Israeli blockade.
The Al-Sharif family were greeted by the ministry officials at the Esenboğa International Airport.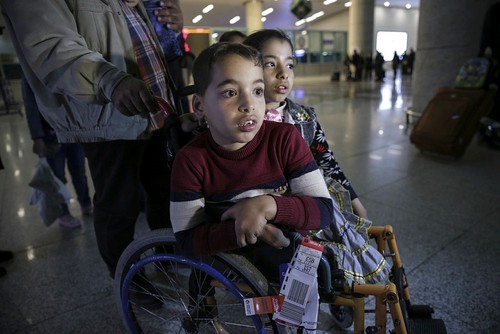 The Al-Sharif siblings, who were born with a congenital amputation, caught the attention of Demircan after he saw a photo of Mohammad swinging on a makeshift swing for Anadolu Agency's Photo of the Year Award.
After learning the stories of Mahmoud and his sister and brother, Demircan gave instructions to ministry officials to reach out to the children.
Since 2007, Israel has imposed a blockade on Gaza, where two million people have only 3 to 4 hours of power a day, forcing hospitals and other medical facilities to rely chiefly on generators and expensive fuel, while many private homes go without.