Attended by 19 allied countries, the Efes-2018, one of Turkey's biggest military exercises, opened in the country's Aegean region yesterday. The live-fire military drill has been considered a showcase of Turkey's growing locally-made arsenal. Among the novel weapons and military equipment on display was the Bayraktar Tactical Block 2 (TB2), Turkey's first domestic armed drone. The military exercise, that will end on May 11, comes at a volatile time in Turkey's region, where a conflict in neighboring Syria continuously threatens to spill over into the country.
Military units from the U.S., Azerbaijan, Bahrain, Bangladesh, Bosnia-Herzegovina, Georgia, U.K., Italy, Qatar, Saudi Arabia, Kazakhstan, Kosovo, Hungary, Macedonia, Mongolia, Uzbekistan, Pakistan, Romania and Slovakia are attending the military drill.
The drill is being hosted by the Aegean Army Command of the Turkish Armed Forces and is being held in İzmir, Turkey's third largest city.
The highlight of the military drill was the Bayraktar TB2 armed drone by Baykar, which specializes in unmanned aerial vehicles and armed drones.
The drone accomplished various shooting tasks on the first day of the drill. Armed drones, used by Turkey since 2015, have been lauded for their efficiency in surveillance, reconnaissance and fire support in counterterrorism operations, especially during Turkey's Operation Euphrates Shield and Operations Olive Branch in Syria.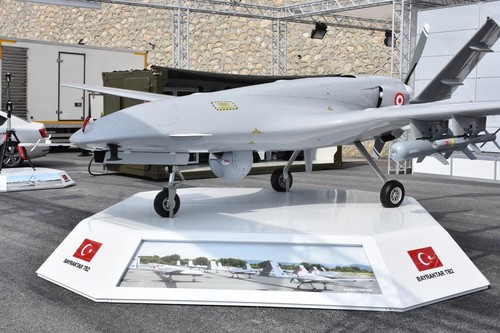 Efes-2018 also hosts an exhibition for defense firms including Baykar's Bayraktar TB2 armed drone (L) which demonstrated its skills in yesterday's live-fire phase.
The Turkish military has so far commissioned 34 TB2s, of which 23 were modified to carry munitions. It can carry payload up to 150 kilograms and is capable of flying uninterruptedly for 24 hours. It also boasts an altitude record of 27,030 feet.
The system's electronics, software, aerodynamics, design and sub-main systems were 100 percent developed and produced in Turkey.
Along with Bayraktar, the military drill will also be a platform to introduce more defense products made by other local manufacturers. Some 35 defense firms will be attending an exhibition held on the sidelines of the event.
Otokar will exhibit its latest armored vehicle Cobra II, which was developed for secure delivery of munitions, fuel, food and water to troops. It has superior maneuverability with the capacity to carry 2.5 tons of payloads. The vehicle will be able to respond both at day and night, in challenging terrain, climate and in different operations. It can be used in both urban and rural settings. The vehicle also provides close protection and self-defensive firepower facilities with an anti-aircraft gun that can be mounted on its chassis. The car can reach up to 110 kph, has a 700-km range and can operate with 120 millimeters of mortars as well as other 5.56 millimeter and 7.62 millimeter weapons.
PADMER, a blast-resistant modular shelter, will also make its official debut at the exhibition. Built by OFM Engineering, the shelter is resistant to vehicle-borne improvised explosive devices and similar explosives. Its modular structure enables easy transportation by air, land or sea and the shelter boasts high durability thanks to a steel chassis. It can be customized for further protection against more severe threats such as mortar attacks.
Katmerciler, another defense firm, will showcase its armored personnel carrier KHAN, an armored ambulance and UKAP, a remote-controlled weapon platform. The platform can be managed at close range with a handheld remote control. The large bag-type control device allows the vehicle to be sent as a vanguard to areas far beyond human reach, which in turn keeps troops and personnel out of harm's way. The close control is used in situations where it is not possible to have full command with the remote control and when it is necessary to react in person or instantly.
In addition, it can be controlled via satellite. Satellite control allows multiple vehicles to be used without distance limitations. With its modular structure, the vehicle can also be used for reconnaissance and surveillance, detecting threats with radar, rescuing injured individuals, mine clearance, drawing off different vehicles, etc. through its camera equipment. The platform can be controlled within a 3-kilometer range with the remote-control kit. While operation time is at least five hours with the battery, it can operate up to eight hours with the generator. Projects are also underway to increase the speed of the vehicle, which currently has a speed of 25 kph. The vehicle can carry up to 3 tons.
Turkish military officials said the joint drill wants to develop capabilities of joint headquarters and military units with other countries through shared tasks and "maintain preparedness for combat."
As tensions in volatile Middle East shows no sign of dwindling, Turkey seeks to bolster its defenses. Turkish military recently displayed that it is a force to be reckoned with, in its close support to the counterterrorism operations carried out by the Free Syria Army against Daesh and the PKK-linked People's Protection Units (YPG), two terrorist groups controlling swathes of territory in northern Syria, close to the Turkish border.