Aref Ghafouri, an Iranian-origin illusionist familiar to Turkish audiences, has been bitten by a cobra snake he uses in his shows and faces death if he does not immediately receive antivenom treatment in Egypt, where he was taken by ambulance plane on Monday.
Known by his stage name Aref, the 28-year-old illusionist had been holding shows in luxurious hotels in southern province of Antalya for the last couple of months.


On Sunday afternoon, Aref was bitten by the Egyptian cobra (Naja Haje Legionis) on his right arm during preparation for the show. The illusionist blocked blood flow to the arm with a piece of cloth and rushed to the Antalya Training and Research Hospital with his Russian assistant Yana Vinter.
After first aid at the hospital's snake bite unit, hospital officials said that antivenom for cobra bites cannot be found in Turkey. Dr. Ünal Hülür, the provincial health director for Antalya, also arrived at the hospital to help health ministry officials with efforts to bring the antivenom from Egypt or France, the only two countries in possession of the treatment.
Considering that bringing the antivenom would exceed 24 hours, Aref demanded that he be transferred to Egypt as the closest destination. He was taken into the intensive care unit as his relatives were looking for an ambulance plane, which arrived from Istanbul to Antalya early Monday morning. However, the plane could not depart since Egypt requires a visa from Turkish nationals, and, despite all efforts by the Turkish Foreign Ministry, Egyptian authorities would not issue a visa for Aref. The Turkish embassy in Cairo also stepped up efforts.
Turkish Health Ministry said in a statement on Monday afternoon that Aref was transferred to the Egyptian capital Cairo after successful efforts by the Turkish Foreign Ministry and General Directorate of Foreign Relations.
"As a result of the efforts, the prescription had been conveyed to the Pasteur Institute in France by the Medicine and Medical Device Institution of Turkey, but it was understood that the aforementioned institution ended antidote production three years ago. Nevertheless, research had been continued as to whether there is any antidote in France," the ministry said, adding that petitions to the Egyptian government paid off in the meantime and hurdles were cleared for Aref's transfer to Cairo.
The statement said that Aref is in a stable condition, his liver and kidney function tests and blood tests are normal and his right arm has swollen without necrosis, but he still needs the antidote.
Hülür said that the venom did not spread to Aref's entire body and there is no abnormality in his health condition.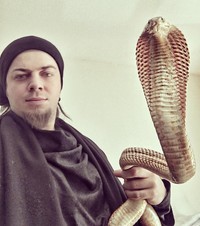 Vinter said that the snake was owned by Aref but he's not sure for how long. But Aref shared a photo with the cobra on his social media account from three years ago, saying, "I had never been this close to death."
Experts said that if Aref does not receive the antivenom Monday, he might die of the bite.
Turkish health centers are equipped with viper antivenoms as vipers are native venomous snakes in Turkey, whereas cobras are native to Africa and southeast Asia.