The photograph of Arsenal star and former Germany player Mesut Özil with President Recep Tayyip Erdoğan that started a wave of racist attacks against the football star a has found a special place in a northern Turkish district - on a roadside street sign.
However, this is no ordinary street in Zonguldak's Devrek. It was named in honor of one its locals, Özil, in 2012. Özil's family comes from the village of Hışıroğlu in Devrek on Turkey's Black Sea coast.
At that time, the large sign pointing to "Mesut Özil Street" had a photograph of the Arsenal player in a full-sleeved, black-and-white jersey of the German national team.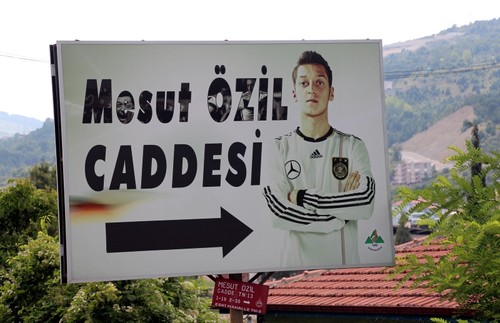 On Tuesday the sign was brought down and replaced with a huge photograph of the football player and the president from their meeting in London in May. That photograph drew xenophobic and racist reactions against Özil and fellow German national team player İlkay Gündoğan, who was also pictured with Erdoğan, in the run-up to the World Cup in Russia.
Then followed Germany's ignominious exit from the World Cup.
Both players were scapegoated by the media and the football federation in Germany. On Sunday, Özil announced his retirement from the German team citing discrimination against his Turkish roots, racist slurs and comments that targeted him.

Özil said in a post shared on his official social media accounts that the past couple of weeks have given him "time to reflect and time to think over the events of the last few months."
"Like many people, my ancestry traces back to more than one country. Whilst I grew up in Germany, my family background has its roots firmly based in Turkey. I have two hearts, one German and one Turkish," Özil wrote. "During my childhood, my mother taught me always to be respectful and to never forget where I came from, and these are still values that I think about to this day."
Commenting on the picture taken with the Turkish president in London, Özil said, "I'm aware that the picture of us caused a huge response in the German media, and while some people may accuse me of lying or being deceitful, the picture we took had no political intentions."
"As I said, my mother has never let me lose sight of my ancestry, heritage and family traditions."
"Mesut Özil is our pride," Devrek Mayor Mustafa Semerci said.
Erdoğan was all praise for Özil and said they spoke over the phone on Monday.
"Such a racist attitude towards a young man, who sweated for the success of the German national team, especially because of his religion, should not be accepted," Erdoğan told reporters.
The row has sparked a wider debate in Germany about the integration of the country's large Turkish population.
Germany has a 3 million-strong Turkish community, many of whom are second- and third-generation German-born citizens of Turkish descent whose grandparents moved to the country during the 1960s. Most of those people still preserve their Turkish identity and relations with their extended families in Turkey.