Two Turks in the United States and Germany won the praise of people from New York and Berlin for their charitable work of supplying free meals to the needy.
Hakkı Akdeniz, who runs seven pizza restaurants in New York, is the recipient of several awards for his charitable work, ranging from helping hurricane victims to feeding the homeless. A Turkish migrant from the southeastern city of Diyarbakır, Akdeniz built a business empire with his Champion Pizza chain after his days as a homeless and penniless man who migrated to the United States from Canada. He is commended for offering free pizza and drinks to New Yorkers in his three shops when Hurricane Sandy battered the city in 2012.
Last year, he launched another charity drive for victims of Hurricane Maria that hit Puerto Rico and gave free pizza to patrons bringing aid materials, from water and diapers to batteries, for hurricane victims. The Turkish businessman also offered jobs for 100 migrant workers and deliver unsold pizzas in his restaurants to a shelter for the homeless every day. "Don't give with expecting something in return. Just work to inspire others," he says, summing up his motto to Anadolu Agency (AA).
In Berlin, Fuat Kaya, a döner vendor, wins the hearts of locals for giving out free meals for anyone who cannot afford one. A sign in the window of Kaya's small shop "Sumak" named after a Turkish spice, says "No problem if you can't pay! No one should stay hungry! Please send anyone you know who cannot find money to pay for food, we will serve them a meal and a drink." Speaking to İhlas News Agency, Kaya said he first started offering free food one year ago.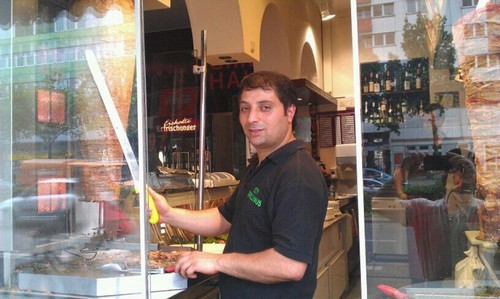 "The homeless in the neighborhood used to come first for free food and now people from other neighborhoods come too. Sometimes, the homeless people come in groups. I hope this will set an example for other restaurants and more will give free food," Kaya says. He said the feedback was very good and he was "proud" as a Turk to be commended for the charity work. He says patrons sometimes offer donations for him to sustain the free meal program. "They pay the price for two dishes and ask us to buy one for the needy," he says.