Gamze Mehmethan, the wife of fallen Turkish soldier Staff Sergeant Fatih Mehmethan, had been married with him for only four months when she found out she would never see her husband again. He was killed in cross-border clashes with the PKK's Syrian wing the People's Protection Units (YPG) back in January in Syria's Afrin where he was deployed as part of Operation Olive Branch.
On what would be their first wedding anniversary, Gamze decided to share a tear-jerking photo series showing a widowed wife recreating shots from their wedding photo shoot, but this time all one her own.
To pay homage to the memories they made together in the house they shot the photos last year, Gamze wore her husband's army name tag and wedding ring, sharing the new photos beside the old ones on her social media.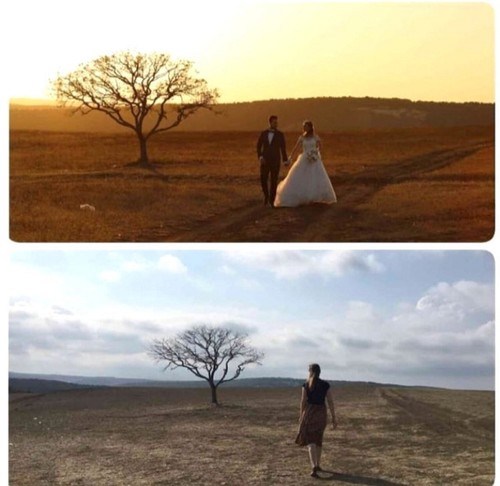 The heart-breaking photos were widely shared on social media.
Gamze had also attended her husband's funeral wearing his military uniform.
Operation Olive Branch was launched by Turkey on Jan. 20 to remove the PKK/PYD/YPG/KCK and Daesh terrorists from Afrin in northwestern Syria.
The operation aimed to establish security and stability along Turkish borders and in the region as well as to protect Syrian people from the oppression and cruelty of terrorists.
The operation in Afrin – bordering Turkey's Hatay and Kilis provinces – was widely expected in the wake of Turkey's Operation Euphrates Shield in northern Syria, which cleared Daesh terrorists from Turkey's border between Aug. 24, 2016, and March 2017.
Afrin has been a major hideout for the YPG/PKK since July 2012 when the Assad regime in Syria left the city to the terror group without putting up a fight.