"What use is the sun if it does not shine on the head of my teacher?" İbrahim Hakkı famously lamented before he started crafting a light refraction mechanism at the tomb of his teacher İsmail Fakirullah 254 years ago. Today, the mechanism, way ahead of its time when first built, draws a large number of visitors to the tomb of this Sufi mystic in Tillo, a town in the eastern province of Siirt. Academics and politicians joined a curious crowd yesterday to watch the beam of lights falling on the ornate cenotaph for Fakirullah, who lived in the 18th century.
The tomb with its light refraction mechanism is on UNESCO Heritage List and is viewed as an ultimate combination of science, faith, and devotion of a Sufi student to his teacher.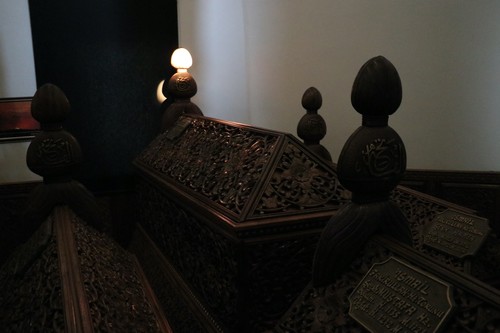 Beam of light shone on Ismail Fakirullah's cenotaph for about five minutes.
Using an astrolabe and a walking stick, working for days for astronomic observations, İbrahim Hakkı managed to build the mechanism by correctly positioning the stones on the wall of the tomb. He succeeded in letting the sunlight into the cenotaph in two equinoxes while the rest of the town was more or less covered in darkness. In the early hours of yesterday, the crowd gathered around the tomb and watched the event on a giant screen set up outside the tomb. People recited the Quran and chanted hymns while a small number of visitors were allowed inside the small tomb to see the event.
Speaking at the event, Professor İhsan Süreyya Sırma, head of Siirt University's Faculty of Theology, said the event has "multiple messages for the faithful."
"Muslims can only rise if they value their scholars and if they value the science," Sırma said. "It is important to respect such scholars so that they would lead our way to Allah. Some Muslims today succumb to the demands of the U.S. and Europe because they stopped believing in Allah and respected scholars," he said.
A misguided restoration in the 1960s botched the function of the mechanism. In 2011, a new window was opened on the wall built by İbrahim Hakkı with the same adjustment he made, allowing the sunlight to shine on the cenotaph once again. Though the tomb itself is not unique in its architecture, the light refraction mechanism is one of a kind.
İbrahim Hakkı, who lived between 1703 and 1780, is one of the most prominent Sufi figures in eastern Turkey. A mystic, poet, author, astronomer and physicist, he penned fifteen books during his lifetime. His best-known work is "Marifetname" (Book of Gnosis), which compiles and comments upon a wide variety of topics from science and philosophy to mysticism.