The Daesh siege on the northern Syrian town of Marea was lifted and its supply line to the town of Azaz was re-opened by the moderate opposition after Turkish artillery fire and joint coalition strikes on DAESH terrorists on Wednesday, enabling the opposition to capture eight villages.
According to security sources, the Turkish military targeted 18 DAESH terrorists on Wednesday, killing at least 14 terrorists and destroying two gun-mounted vehicles, various mortar and artillery positions as well as a building used as a defensive shelter.
The opposition seized control over Kafr Kalbin, Kaljibrin, and six other villages, security sources said.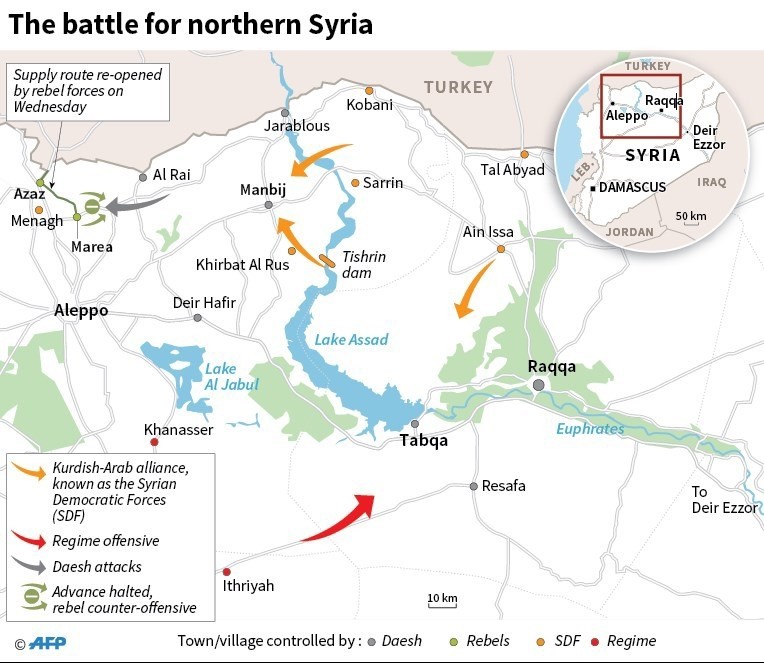 According to the Syrian Observatory for Human Rights, Daesh terrorists even pulled back from towns and villages east of the supply route, including Dudyan near the border. In Aleppo, barrel bombs dropped from Assad regime helicopters killed 10 people near Al-Bayan hospital in the Shaar neighborhood, said the Observatory. "We have three operating rooms and all the equipment inside them was damaged because of the force of the explosion," doctor Marwan al-Radwan said. Hundreds of thousands of people are believed to be trapped between the Turkish border and the front line in northern Syria.
The Turkish Armed Forces (TSK) have stepped up attacks on Daesh in Syria after rockets fired by the terrorist group repeatedly landed in Kilis, in what appeared to be a sustained and deliberate assault.
Turkey, a member of the U.S.-led coalition battling Daesh, has received almost none of the support it wanted from its allies in the fight against the terrorist group and indicated Ankara was prepared to take unilateral action.