U.S. Foreign Minister John Kerry has informed Turkish Foreign Minister Mevlüt Çavuşoğlu that the PKK terrorist organization's Syrian offshoot, the Democratic Union Party (PYD), is retreating east of the Euphrates River in Northern Syria, as had been promised by the U.S.
Confirmation of the retreat was made ina phone call on Thursday morning, made on the request of the U.S. State Secretary. The call focused mainly on achieving a halt in the armed conflict in Syria and creating a permanent ceasefire in the region.

During the conversation, the parties consulted over the Jarablus operations and stressed their mutual understanding that the cooperation between the U.S. and Turkey should continue.
Concerning the retreat of PYD forces, Kerry stated that PYD forces are currently crossing east of the Euphrates, as the U.S. had previously promised.

It was also emphasized that the fight against Daesh in Iraq and Syria will be maintained by both parties working in cooperation with each other.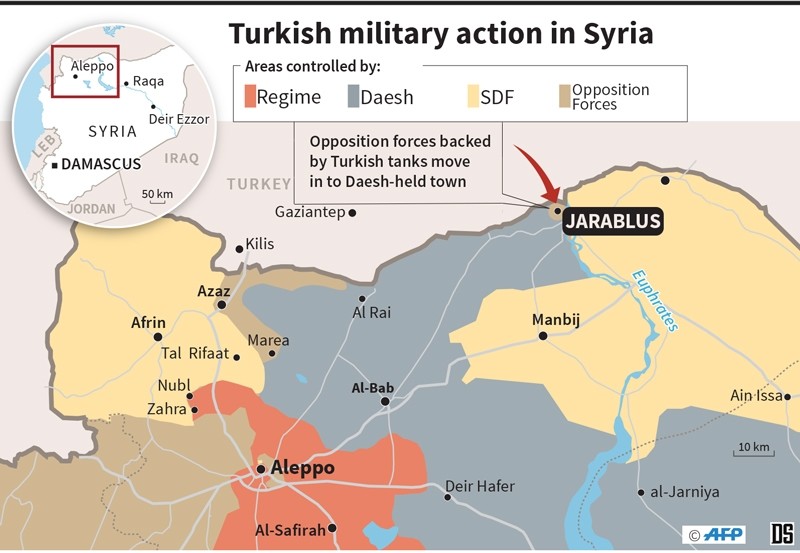 Prime Minister Binali Yıldırım said on Wednesday that it is necessary to cleanse Jarablus of terrorist PKK-affiliated groups, including the PYD and the People's Protection Units (YPG), saying that, "This was a pledge, a guarantee of the U.S."

Yıldırım added that the operation will continue until elements of the PKK's Syrian affiliate YPG retreats to the east bank of the Euphrates.

U.S. Vice President Joe Biden also urged the PKK's Syrian affiliate to retreat to the east bank of the Euphrates in the joint press conference held in Ankara with Yıldırım, asserting that the U.S. would withdraw support for the PYD if it does not move back across the Euphrates River.
Foreign Minister Mevlüt Çavuşoğlu repeated on Wednesday that Turkey is ready to do whatever is necessary if the YPG does not cross east of the Euphrates in Syria, reminding the U.S. of its promise regarding this postoperative plan to pull back their forces in accordance with their joint agreement.
Despite this, Redur Xelil, a spokesman for the Kurdish YPG forces, said on Wednesday that the YPG would not retreat from west of the Euphrates.

Speaking to Radio Voice of America Xelil asserted that, "Our forces are part of the SDF [Kurdish-led Syrian Democratic Forces] and we insist on our mission and goal. We won't listen to the demands of Turkey or powers outside of Turkey. Turkey cannot impose its own agenda, its own interests on us."
The Turkish army launched a cross-border operation on Wednesday, named "Euphrates Shield", along with a U.S.-led coalition in Syria's northern border-city of Jarablus to clear the area of Daesh. Operations of the Turkish Armed Forces, which have been actively fighting Daesh, have contributed significantly to the ongoing efforts by the U.S.-backed international coalition against the terror group.