President Recep Tayyip Erdoğan held a phone call with Turkish troops in Iraq's Bashiqa camp late Sunday.
"You are there as heroes, who stand against Daesh terror and oppression," he said in the call.
"The fact that over 1,300 Daesh terrorists have been killed so far shows how powerful Turkey is. You have made the terrorists pay the price for their atrocities. In addition to your efforts in Iraq, your colleagues in Syria have also caused Daesh great damage there, in another sign of our power," he added, stating that 300 more Daesh terrorists have been killed in Syria.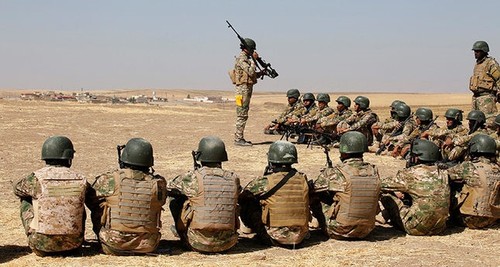 "May Allah be your guide and helper in your duty," Erdoğan concluded.
Earlier this year, Iraqi-Turkish relations had turned sour over who should take part in the planned Mosul assault against Daesh.
Iraq had said they perceived the Turkish military forces presence in the country as a violation of Iraqi sovereignty and had called upon the Turkish authorities to withdraw those forces as soon as possible.
However, Turkey had stated that Turkish forces had initially been stationed at the Bashiqa camp to train the local forces in their fight against Daesh at the request of Abadi himself.
About 150 soldiers and up to 25 tanks were stationed in Bashiqa to protect Turkish servicemen training Iraqi volunteers to fight Daesh since March 2015. Turkey had pointed out that the soldiers were not assigned to combat duties, and would do all it could to prevent the operation from deepening sectarian conflict on its borders.
Mosul, the largest city seized by Daesh anywhere across the once vast territory it controlled in Iraq and neighbouring Syria, has been held by the group since its fighters drove the U.S.-trained army out in June 2014.