Amid the ongoing terror threats Turkey faces, the ruling Justice and Development Party (AK Party) Deputy Chairwoman Çiğdem Karaarslan has called upon the international community to take cooperative action against terrorism, saying, "The separatist terror groups [referring to the PKK and other relevant terror groups] aim to damage Turkey's historical ties to the region and the values of humanity it shares with other countries by attacking historical monuments, cities and city centers around Turkey in the same way that Daesh did when it destroyed the ancient monuments in Palmyra in Syria."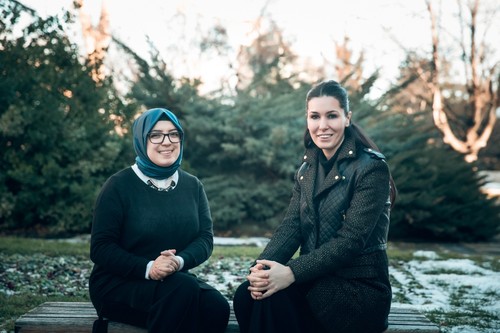 AK Party Deputy Chairwoman Çiğdem Karaarslan (R) with Daily Sabah's Merve Aydoğan in Ankara on Jan 12.
Home to ancient churches, mosques and other buildings of historic importance, Turkey's southeastern Sur province has been under siege by terrorists for months, compelling Turkish security forces to work arduously to secure areas affected by the campaign of violence conducted by militants from the PKK terrorist organization.
Although the government officially began the rebuilding process in southeastern Turkey and terror attacks in the region have been mostly abated, local residents are slow to resume their daily lives, left paralyzed by terrorist attacks and violent PKK clashes with security forces.
Recovery efforts are expected to take time and in this context, speaking exclusively with Daily Sabah on the matter, AK Party's deputy chairwoman in charge of the environment, city and culture said, "Terror has been a part of our lives for many years and while we mainly saw terrorism in rural areas before, we are now unfortunately experiencing tremendous agony due to the terror we face in the cities... In the same way that Daesh sought to damage historical ties and the shared values of humanity by destroying Palmyra's ancient monuments in Syria, the separatist terror groups [referring to the PKK and other relevant terrorist groups] also have similar aims in attacking our cities, densely populated areas and historical monuments."
Namely, the Fatih Paşa Mosque, which was the first Ottoman-era religious building to be erected in Diyarbakır in the 16th century and also known as the Kurşunlu Mosque, saw its original doors and windows burned out by PKK terrorists following attacks which seriously damaged the mosque's interior," Karaarslan said, adding, "I saw the restoration campaign begin while I was there and daily life is swiftly returning back to normal."
Emphasizing that the security of citizens is the upmost priority of the government, Karaarslan said, "It is impossible to speak of local needs when security has yet to be established. Thus, the first thing we did was establish security before beginning our inspections there. Severely damaged, damaged and undamaged structures have been identified."
The Ministry of Environment and Urban Development has launched a restoration project on six severely damaged neighborhoods in Sur.Responding to defamation propagandas and speculation, Karaarslan said, "We certainly do not have any intention to rebuild a totally new structure in those neighborhoods without protecting the touch and the layers of civilization. We aim to revitalize Diyarbakır's structure completely from those reserves in efforts to protect those existing structures."
Furthermore, the ministry's project that Karaarslan mentioned aims to break ground for residences, which will be compatible with the local architecture in the city that has history dating back to 3,000 B.C.
Continuing on with her remarks by addressing the position of Western states regarding Turkey, Karaarslan emphasized the matter of "sincerity" in bilateral relations.
"When the sincerity factor is missing in relations, this will reflect on all other matters. Today, not only we, but the entire world faces a global terror threat and no one can disregard this. Thus, the only way to overcome this is only through global cooperation," she said.
Reminding that "terrorism is like a boomerang, which will eventually hit the one who threw it," Karaarslan urged international allies to share and empathize with Turkey in its painful experiences.
"As we sincerely feel the pain following the terror attacks against France, and sincerely condemn the terror attacks against Germany, we expect the international community to also share and feel our agony that we experienced on the night of the July 15 failed coup attempt and other terror attacks we have experienced in our cities," she added, calling upon the international community to cooperate with Turkey in its fight against terrorism. She stated that international actors must support Turkey and its leader rather than creating "antitheses" against it.
Providing information on projects and works slated for 2017 and beyond, Karaarslan said there are three significant works that are necessary for Turkey's future, one of those being "city gatherings," where individuals from various professions including environmentalists and leaders of non-governmental organizations (NGOs) come together and provide comments, feedback and contributions regarding projects.
The second project Karaarslan mentioned involves creating more "environmentally friendly" cities in the scope of environmental change, waste management and recycling as well as biological changes beginning at home.
Additionally, Karaarslan described the third project as "My City 2023," a project that aims to create a 2023 vision specific to each city; similar to Turkey's 2023 vision.
"We will discuss the 2023 vision of various cities during gatherings with various professionals including architects, urban design experts, sociologists, politicians and local leaders. We are currently developing infrastructure to establish the 2023 vision for each and every city," she said.
Karaarslan finished her remarks by noting that the main aim in all of these projects is to establish "cities with identities."