French president François Hollande received the head of the the Democratic Union Party (PYD), Salih Muslim on Tuesday.
According to PKK-affiliated Fırat News Agency (ANF), Muslim and Hollande discussed the possibility of a "Northern Syria Federation" during the meeting.
The so-called Paris representative of the PYD, Xalid Isa also attended the meeting.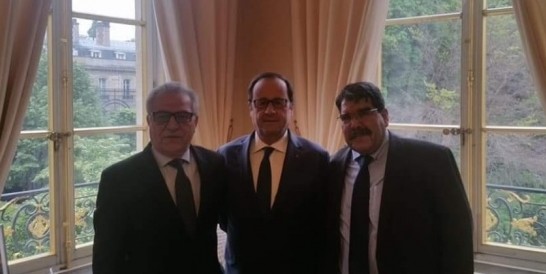 Xalid Isa (L), Hollande (C) and PYD's Muslim
No statement from the French presidency regarding the meeting has been made so far.
France previously hosted PYD militants in its presidential palace as well, with Hollande receiving senior terrorists Asya Abdullah and Nesrin Abdullah.
The PYD is the Syrian affiliate of the PKK, which is designated as a terror organization by the U.S., Turkey and the EU.
Supporters of the PKK have been allowed to distribute propaganda in many European countries, including universities, without the fear of restrictions or penalties. The PKK has continued to spread throughout European states since the early 1990s. In 2002, the European Commission officially classified the PKK as a terrorist organization.