Two Swedish-made anti-tank missiles have been found during counterterrorism raids against the PKK in the southeastern province of Şırnak, the Turkish military said Wednesday.
According to the statement, the AT4, anti-tank missiles were found in the Uludere district.
The military said that the missiles were brought from Iraq to carry out attacks in Turkey.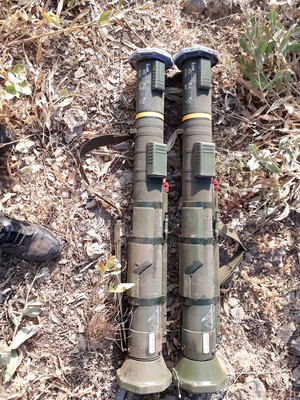 Ankara has warned Western countries against arming terrorist groups in Iraq and Syria, as arms and weapons can be transferred to the PKK and pose a threat to the country's national security.
Considered one of the most commonly used light anti-tank weapons in the world, the AT4 is made by Sweden-based Saab Bofors Dynamics.
Previously, Turkish officials criticized weapons deliveries to the PKK's Syrian affiliate Democratic Union Party's (PYD) armed People's Protection Units (YPG) militia, saying that the weapons could turn into a national security threat in the future if they are transferred the PKK terrorists in Turkey to be used against security forces.
Founded in 1978, the PKK has waged a bloody campaign against the Turkish state since 1984.
The PKK, listed as a terrorist organization by Turkey, the U.S., and the EU, resumed its armed campaign in July 2015 after a brief reconciliation period.
Since then, the PKK has been responsible for the deaths of some 1,200 security personnel and civilians, including women and children, while more than 4,000 security personnel and over 2,000 civilians have been injured.