Multiple U.S. official statements have underlined Washington's displeasure over banners and images featuring the U.S. designated terror group the PKK's founder Abdullah Öcalan in the Syrian city of Raqqa following the city's liberation from Daesh.

Late Friday, Pentagon condemned the display of Öcalan banners. "We condemn the display of PKK leader and founder Abdullah Öcalan during the liberation of Raqqa," Pentagon Spokesman Major Galloway said.
"The PKK has been a U.S. designated Foreign Terrorist Organization since 1997 and we continue to see PKK as a destabilizing actor it the region. The United States continues to support our NATO Ally Turkey in its multi-decade struggle against the PKK and recognizes the loss of life Turkey has suffered in that conflict."
The U.S.-led coalition spokesman Col. Ryan Dillon also said earlier in the day that the coalition was aware of reports of celebration and displays of Öcalan and PKK symbols in Raqqa on Thursday, adding "the Coalition does not approve of the display of divisive symbols and imagery at a time in which we remain focused on the defeat of Daesh in Syria."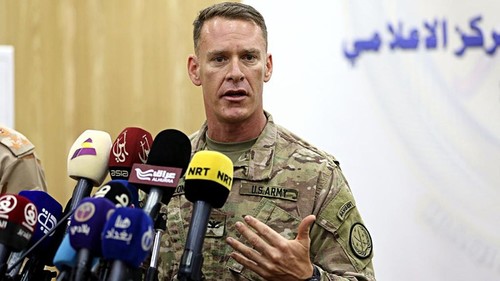 Dillon also said that the Syrian Democratic Forces (SDF) leadership, the militia that the U.S. has partnered with against Daesh, had not sanctioned such displays in Syria.
However, Dillon's statement is quite contradictory in nature as the SDF is mainly led by the PKK's Syrian armed wing the People's Protection Units (YPG).
YPG officially seizes Raqqa and dedicates it to US designated terror group PKK's founder and leader Ocalan pic.twitter.com/ns002GAypz

— Ragıp Soylu (@ragipsoylu) October 19, 2017
Last month Al Monitor named the SDF's general commander as General Mazlum Kobane whose real name is Ferdi Abdi Şahin. Turkey placed Şahin on its top wanted terrorists list many years ago as a senior leader in PKK cadres. Many reports have also previously suggested that Şahin, also known as Şahin Cilo, is PKK leader Öcalan's adopted son. The SDF commander confirmed in his interview that he was a PKK militant and also very close to Öcalan.
Responding to an inquiry on Öcalan's posters in Raqqa, a senior U.S. State Department official said that the U.S. had been clear that the liberation of Raqqa was an accomplishment for all Syrians. The official said, "We expect all parties to avoid actions that would be seen as offensive or create tensions."
Despite mounting evidence, the U.S. continues to deny the fact that the YPG is a PKK branch in Syria. Turkish officials say the U.S.' cooperation with the PKK in Syria is one of the main culprits of rising anti-Americanism in Turkey.
Gen. Thomas went on record praising the #SDF / #YPG for allaying fears over its #PKK ties to govern in the wake of #ISIS -this spits on him

— Nicholas A Heras (@NicholasAHeras) October 20, 2017
The best evidence of the YPGs ties to the PKK is still the YPGs refusal to even try to hide its ties to the PKK https://t.co/RQ81k3Q99g

— Nicholas Danforth (@NicholasDanfort) October 19, 2017
Hans Jaap Melissen, a Dutch photojournalist who was in Raqqa Thursday, tweeted that U.S. soldiers were wearing YPG uniforms, and U.S. officers later forced him to remove the video he shot.
Melissen told Daily Sabah that American soldiers were wearing YPG badges, and he was 99 percent sure that they were in the same uniforms as YPG militants.
"I didn't notice them until they came forward to say I couldn't film there," he said.
A sample of how recognized anti-ISIS voices in the region view the Raqqa win:

"The Syrian Democratic Forces' behavior, raising of Ocalan pictures & the tank donuts are nothing but disgusting & provocative. How similar to the Assad forces! Raqqa hasn't been liberated. Period" pic.twitter.com/o2E5rD7UOE

— Hassan Hassan (@hxhassan) October 20, 2017
President Tayyip Erdoğan also lashed out Friday at American officials over the Öcalan posters, and said he believes Americans are not sincere in their statements about their opposition to the PKK and other terror groups.