German police detained supporters of the PKK terrorist organization who were participating in a demonstration in Dusseldorf and carrying prohibited terrorist symbols after clashing with police, reports said Saturday.
According to reports, German officials authorized the protest based on the ground that they do not display images of the terrorist leader, or symbols associated with the terrorist group.
However, the terrorist supporters did not comply and attacked German police with bottles and sticks after receiving warnings to stop carrying prohibited images.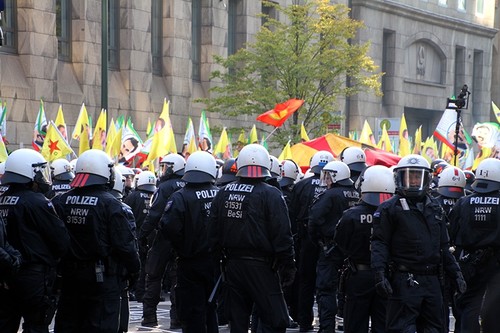 Pro-PKK terrorist protesters waving flags bearing prohibited symbols, including that of PKK leader Abdullah Öcalan in Dusseldorf, Nov. 4, 2017 (AA Photo)

Police intervened using tear gas and batons, slightly injuring some protesters.
Some PKK supporters were detained in clashes, Anadolu Agency reported.
Turkey criticizes Germany for allowing pro-PKK marches, even though the group is recognized as a terrorist organization by Turkey, EU and the U.S.
For instance, terrorist supporters were allowed to hold a rally under a slogan bearing the name of the imprisoned leader of the PKK, despite the German Interior Ministry having passed a ban on the brandishing of 33 symbols linked to the PKK in March, including the PKK flag and photos of Abdullah Öcalan.

The PKK has long enjoyed relative freedom in European cities and has a particularly strong presence in Germany. PKK supporters have been allowed to hold rallies, recruit militants and collect funds in Germany and several other European countries, including Belgium, the Netherlands and Switzerland, where their terrorist activities are met with support.