PKK sympathizers celebrated the anniversary of the terrorist group's foundation at the Goethe University in Germany's Frankfurt.
Pro-PKK students organized a special event on Nov. 27 with live music, food and drinks at a cafe on the university campus.
The "celebration" was promoted on a student group's Facebook page, while several photographs taken during the event were also shared.
The photographs showed numerous posters of jailed PKK leader Abdullah Öcalan and banners reading "the Kurdish people will be avenged."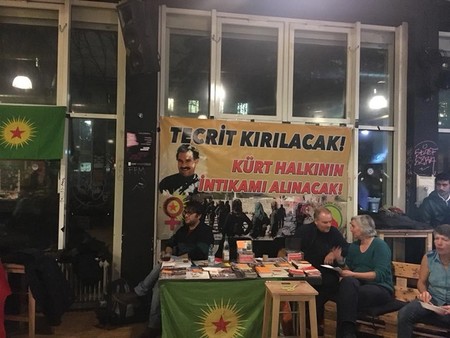 The PKK has long enjoyed relative freedom in European cities and has a particularly strong presence in Germany. PKK supporters have been allowed to hold rallies, recruit militants and collect funds in Germany and several other European countries, including Belgium, the Netherlands and Switzerland, where their terrorist activities are met with support.
Ankara has long criticized what it calls Germany's indifference to the activities of various terrorist groups within its borders. Although Berlin outlawed the PKK in 1993, authorities have been reluctant to take strong measures against the organization's activities, ignoring repeated warnings from Ankara.
Founded in 1978, the PKK has waged a decades-long bloody campaign against Turkey. After a brief reconciliation period, the terrorist group resumed its armed campaign in July 2015.
Since that time, the PKK has been responsible for the deaths of some 1,200 security personnel and civilians, including women and children, and injuries of more than 4,000 security personnel and 2,000 civilians in Turkey.