A total of 1,614 terrorists have been neutralized in Operation Olive Branch in Syria's Afrin, the Turkish military said Sunday.
Turkish Armed Forces (TSK) and Free Syrian Army (FSA) also liberated another village from People's Protection Units (PYD) terrorists in Afrin on Sunday, the military said.
Anadolu Agency reporters in the region said that the village of Hecika in Rajo, western Afrin was cleared of PKK-linked YPG terrorists as part of the ongoing Operation Olive Branch.
The village marked the 66th area liberated from terrorists, including 45 villages and 17 strategic mountains or hills.
Meanwhile, the Free Syrian Army said it captured a female YPG terrorist after capturing Shedya village of Recu town. The FSA fighters also conducted a security check inside new tunnels used by the terrorist group for protection against air strikes and artillery shelling.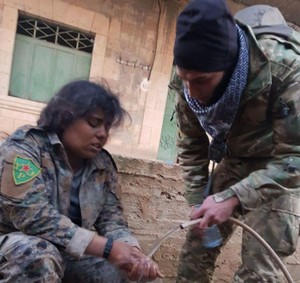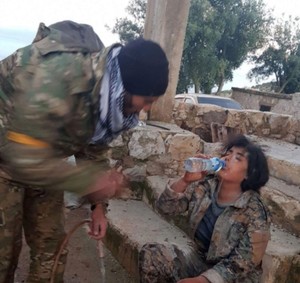 The TSK uses the term "neutralized" in reference to terrorists captured dead or alive, or those who surrendered during the operations. However, the term is usually used for the terrorists who were killed in the operations.
Operation Olive Branch was launched by Turkey on Jan. 20 to remove the PKK/PYD/YPG/KCK and Daesh terrorists from Afrin in northwestern Syria.
According to the Turkish General Staff, the operation aims to establish security and stability along Turkish borders and in the region as well as to protect Syrian people from the oppression and cruelty of terrorists.
The operation is being carried out under the framework of Turkey's rights within international law, U.N. Security Council resolutions, its right to self-defense under the U.N. charter and respect for Syria's territorial integrity, it said.
The military also said, "utmost importance" is being placed on not harming any civilians.
The operation in Afrin – bordering Turkey's Hatay and Kilis provinces – was widely expected in the wake of Turkey's Operation Euphrates Shield in northern Syria, which cleared Daesh terrorists from Turkey's border between Aug. 24, 2016, and March 2017.
Afrin has been a major hideout for the PKK's Syrian affiliate the People's Protection Units (YPG) since July 2012 when the Assad regime in Syria left the city to the terror group without putting up a fight.